During the days of I Love Lucy and The Brady Bunch, TV shows were family-friendly, wholesome, and lacked diversity. In the 1950s especially, traditionalism and uniformity served as the basis of American culture—and TV shows in the '50s reflected those values.
You don't have to look back far to see that as society shifts over the years, TV genre popularity trends in line with those changes. For instance, the Space Race era ushered in a buzz around sci-fi TV shows like Star Trek. Just before the millennium, TV series like South Park, The Daily Show, and Ellen explored homosexuality, political corruption, mental illness, and more—at the same time those topics were discussed more broadly in the media.
As cultures, laws, and communities evolve, TV genres do too. Taking those changes into account, which TV genres have reigned supreme despite changing values? Which TV genres have been the most popular over the years?
The research team at USDirect wanted to answer those questions, so they looked at more than 20,000 individual data points to find out just how much the popularity of top TV genres have fluctuated over time. Check out:
How TV Genres Have Ranked Over the Years
Drama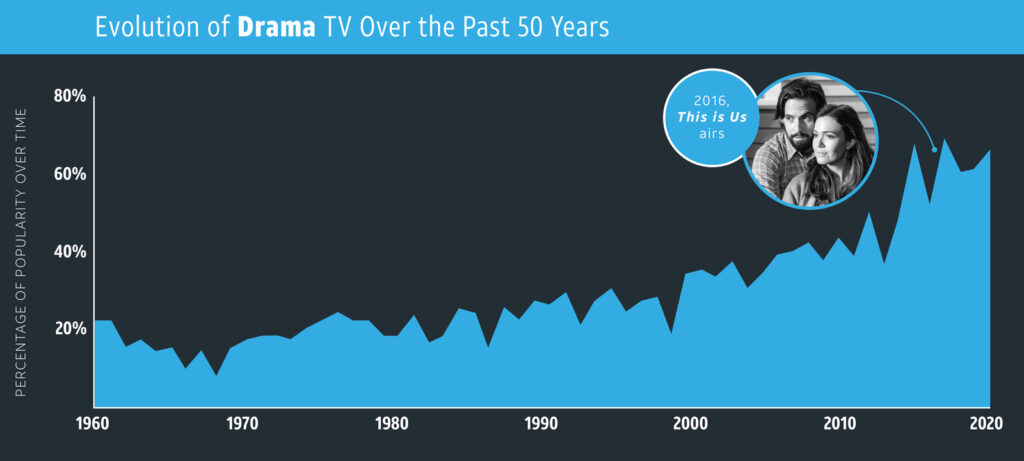 Fifty years ago, Westerns were all the rage, but today, people are more likely to watch drama-themed TV shows. Phenomenally well produced breakout shows like The Sopranos, The Wire, Breaking Bad and Mad Men made way for popular dramas of today, like 13 Reasons Why, This is Us and The Handmaid's Tale.
Comedy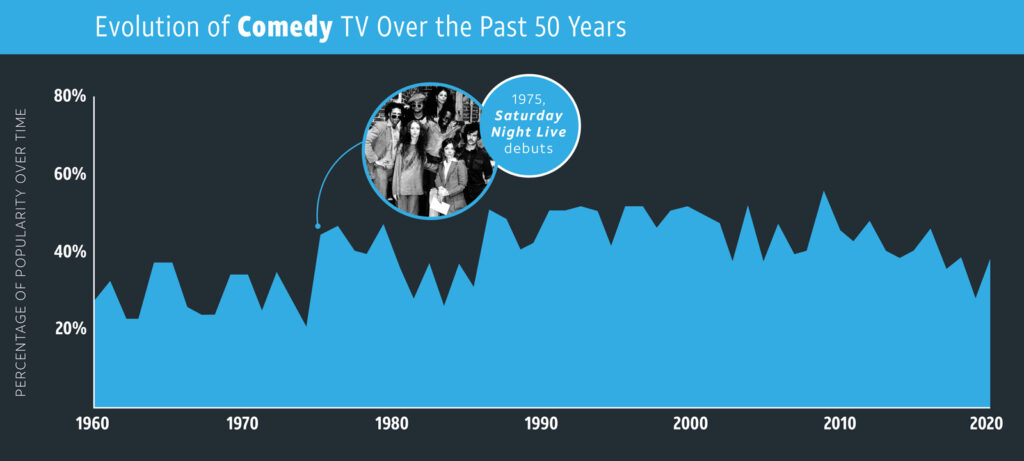 Comedy has always been popular, but started to hit its stride in the mid-70's, when the ground breaking Saturday Night Live first appeared. Comedy's popularity reached a peak in the 1990's when the end of communism brought about soaring spirits and multi-camera laugh track comedy sitcoms à la Friends, Seinfeld, and Everybody Loves Raymond. In the later 90's, controversial comedies like That '70s Show, Will & Grace, and Sex and the City, which touched on topics like drugs, homosexuality and feminism, rated high. Recently quirky comedies like Schitt's Creek and Fleabag are highly acclaimed, but the comedy genre in general seems to have lost just a little steam.
Reality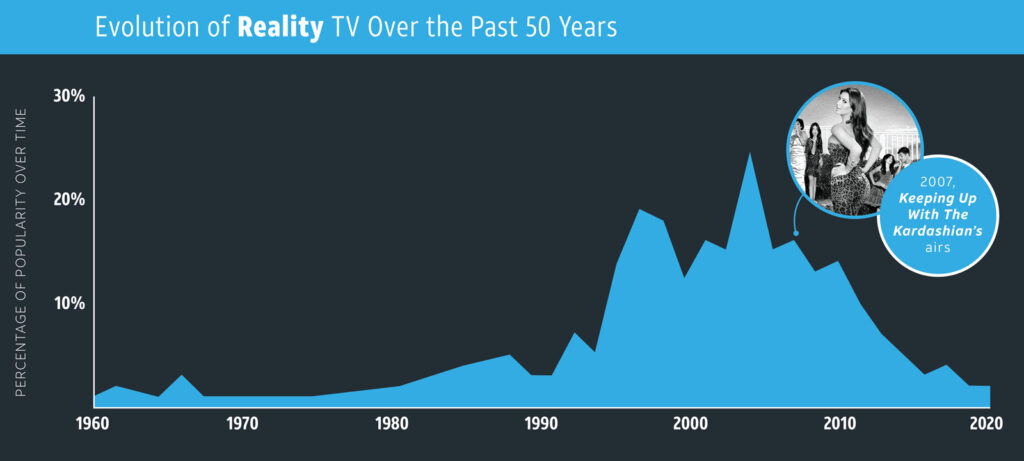 Bet you didn't know that reality TV, or "unscripted series" even existed back in the 60's. Back then, it was mostly game shows. The genre seems to have reached its peak around 2005, when there were multiple game shows, competition shows, talk shows, dating shows, etc. Even though we live in a day and age when Kanye West tried to run for president and the President himself became famous as a reality TV star, Reality TV's popularity has dropped significantly.
Sci-Fi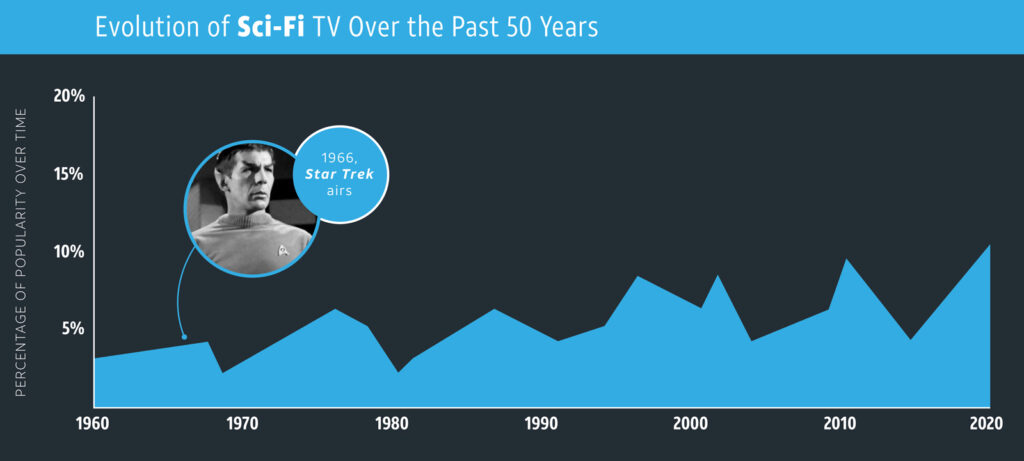 At the tail end of the 1960s, the US landed on the moon and in the same timeframe, sci-fi saw a massive spike in popularity. In 1966, Star Trek premiered, and the sci-fi genre expanded along with the technology that fueled it. Intergalactic exploration, robots and high tech provide more inspiration than ever to the TV content creators of today.
Animation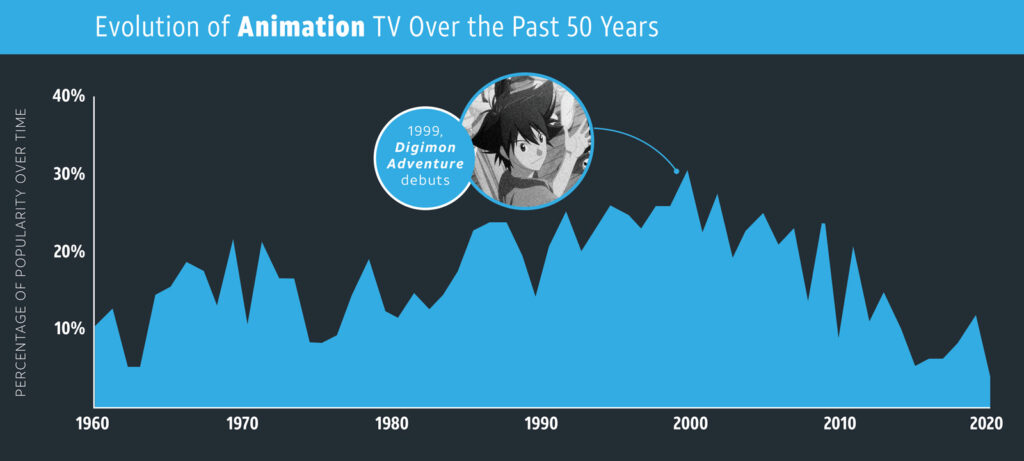 Animated series jumped from Saturday morning to prime time in the '60's, when the modern Stone Age family The Flintstones, was all the rage. But then animation saw a 29% increase in popularity in 1999 when The Simpsons and South Park were all anyone could talk about. On the whole, the top-rated animation TV shows in 2020 are Rick and Morty, South Park, and Family Guy, each adult cartoon clearly focused on political satire.
This info was originally posted on USDirect. Find out even more about TV genres in DirectTV's fascinating article here. Catch up on the shows in these genres, past and present, by surfing DIRECTV channels.
Comedy, drama, reality, sci-fi, animation — see the results of a fascinating study of how TV genres rank over the years, and which one is most popular now.