Mmmmm — just the word "pancakes" brings an absolutely heavenly scent to mind and starts your stomach rumbling, doesn't it? The fact that Saturday, September 26 is National Pancake Day is the perfect excuse to whip up this ultimate comfort food and dig right in.
A few fun facts about pancakes that for you to toss about as you munch: Also known as Johnnycakes, griddle cakes or hotcakes, this batter-made breakfast item dates back more than 30,000 years. In fact, it may be the oldest breakfast food in history. And pancakes are not just for breakfast anymore — many people also like to make pancakes as part of a night of "breakfast for dinner," especially families with children.
We've asked chefs, culinary experts and bartenders around the country to share their favorite pancake, bacon, syrup and cocktail recipes, so you can celebrate at any time of the day or night.
Pancakes for purists
Let's start with some pancake basics from Leigh Uhlir, Associate Dean at Kendall College in Chicago, IL. She's the program director of culinary arts and hospitality management at National Louis University, and has experience at some of the nation's leading hospitality companies and restaurants in Chicago, Las Vegas, NV and Austin, TX.
"At culinary school, we always follow the basics and use fresh ingredients," says Uhlir. "Some may call these tricks, but we call it "pancake science."
The 5 Basic Rules of Pancake Science
Always use fresh ingredients — you can taste the difference
Mix dry and wet ingredients separately, then combine them together
Don't overmix!
Let your pancake batter rest; this equalizes the moisture and lets air into the batter
Cook on medium-hot on a well-oiled griddle
"Ultimately, pay attention!" she advises.  "Use all your senses when cooking: Watch, listen and taste!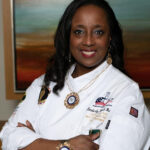 And now a basic pancake recipe for the pancake purist, from Chef Kimberly Brock Brown, who has more than 30 years of culinary experience in major hospitality hot spots like Dallas, TX; Hilton Head Island, SC; Atlanta, GA; Asheville, NC; and Charleston, SC.
The Classic Pancake
Ingredients:
2 cups self-rising White Lilly flour
1/4 cup granulated sugar
1/2 teaspoon baking soda
1 3/4 cups buttermilk
1/4 cup butter melted
2 teaspoons pure vanilla extract
2 eggs
Instructions:
Combine all dry ingredients
Combine all liquid ingredients
Add the liquid to the dry. Whisk only to incorporate. Might be slightly lumpy. Rest the batter 15  minutes before cooking.
On medium heat, in an oiled skillet or griddle, cook pancakes until nicely browned.
Enjoy any sized pancake.
Recipes for the Sophisticate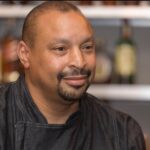 Chef Lance Knowling of Millburn, NJ specializes in a unique brand of Barbecue, Contemporary Soul, and Modern Comfort Food, and has been highlighted on The Food Network and multiple other television programs. He suggests getting fancy with the pancakes and  the syrup.
Sweet Potato Pancakes with Four Roses Bourbon-Maple Syrup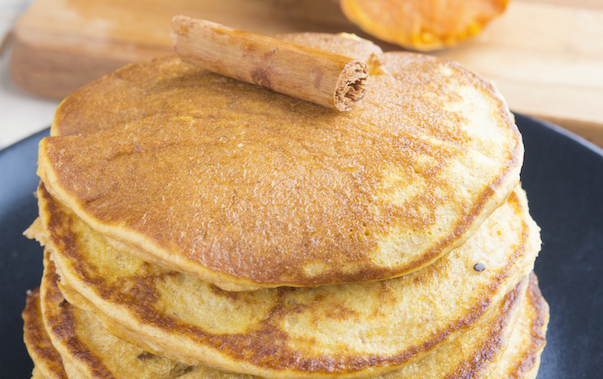 Ingredients: 
2 cups all-purpose flour
4 tablespoons granulated brown sugar
2 teaspoons baking powder
1 teaspoon baking soda
1 1⁄2 teaspoons ground cinnamon
1⁄4 teaspoon ground nutmeg
1⁄2 teaspoon salt
1 1⁄2 cups whole milk
1 cup cooked sweet potato or yam (roasted till soft and peeled, do not boil)
1 egg, lightly beaten
2 tablespoons melted unsalted butter
1 cup maple pure syrup
1⁄4 cup Four Roses Bourbon1 teaspoon vanilla extract (optional)
Instructions:
In a large bowl combine flour, brown sugar, baking powder, baking soda, cinnamon, nutmeg and salt. Whisk together.
In a medium bowl, whisk together milk, sweet potato, egg, and butter.
Add flour mixture to sweet potato mixture and stir just until dry ingredients are incorporated into the wet.
Heat a lightly oiled griddle or large nonstick skillet over medium-high heat. For each pancake, pour about 3oz of batter onto the griddle and cook until both sides are lightly browned.
For the syrup — in a small saucepan, bring maple syrup and bourbon to a boil. Reduce heat to medium-low and simmer for 8-10 minutes. Add vanilla and serve warm.
Bacon!
And what's a pancake breakfast without bacon? Chef Robert Ramsey, Lecturer on Culinary Arts, Kingsborough Community College, and professional chef and caterer, recommends making the most decadent bacon you'll ever taste.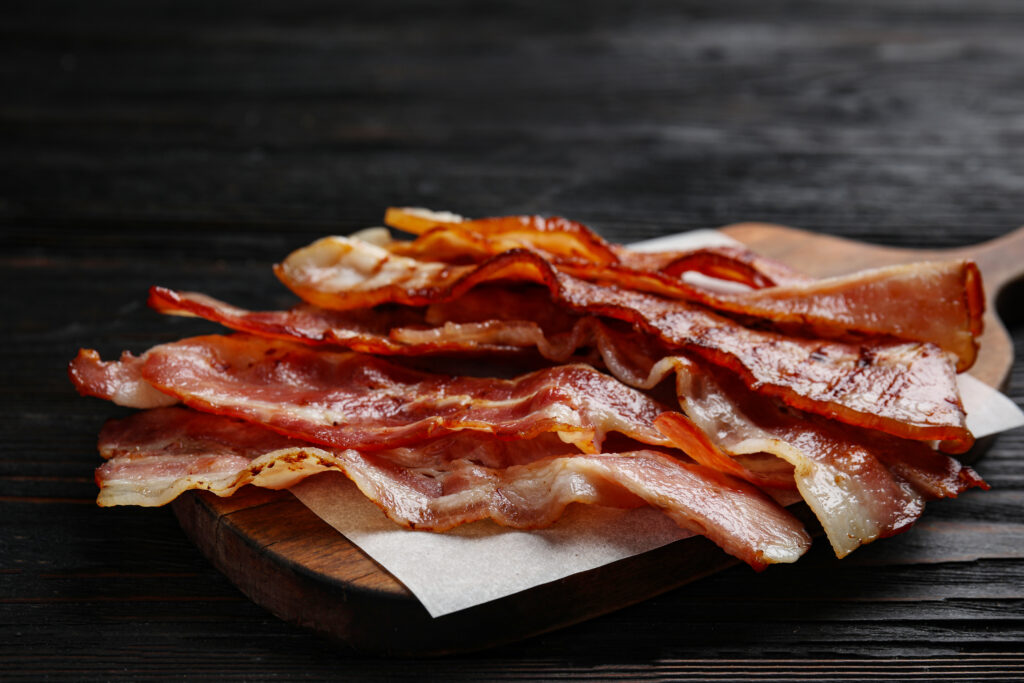 Double Cut Bacon with Four Roses Bourbon Brown Sugar Glaze
Ingredients
1 pound Broadbent Kentucky Slab Bacon, sliced 1⁄4 inch thick
1 cup packed light brown sugar
1⁄2 cup Four Roses Bourbon
2 Tablespoons butter
1⁄2 teaspoon vanilla extract
Instructions:
Preheat oven to 300.
Line a baking sheet with parchment paper
Lay the bacon slices flat on the sheet. The bacon slices can be touching, but be sure they are not stacked on top of one another
Place a second sheet pan on top to keep the bacon flat
Transfer to the oven and cook for approximately 15 minutes, rotating the pan once, until the bacon is mostly cooked but still pale and tender
While the bacon is in the oven, combine the sugar, bourbon, butter, and vanilla in a medium saucepan. Place over medium heat and cook, stirring constantly, until the sugar is fully dissolved and the mixture begins to thicken into a syrup
Remove the bacon from the oven and uncover it. Brush the glaze on top and return it to the oven, uncovered, and continue to cook until the bacon is crisp
Pancake Cocktail
Tim McCafferty, Mixologist at the Osito's Tap in Chicago, has come up with an oh-so-clever way to drink your pancakes. McCafferty wanted this pancake cocktail to capture the spirit of breakfast, so he chose the egg whites and maple syrup as key ingredients. Since breakfast for dinner is a pretty universally accepted meal, why not try breakfast for cocktail hour?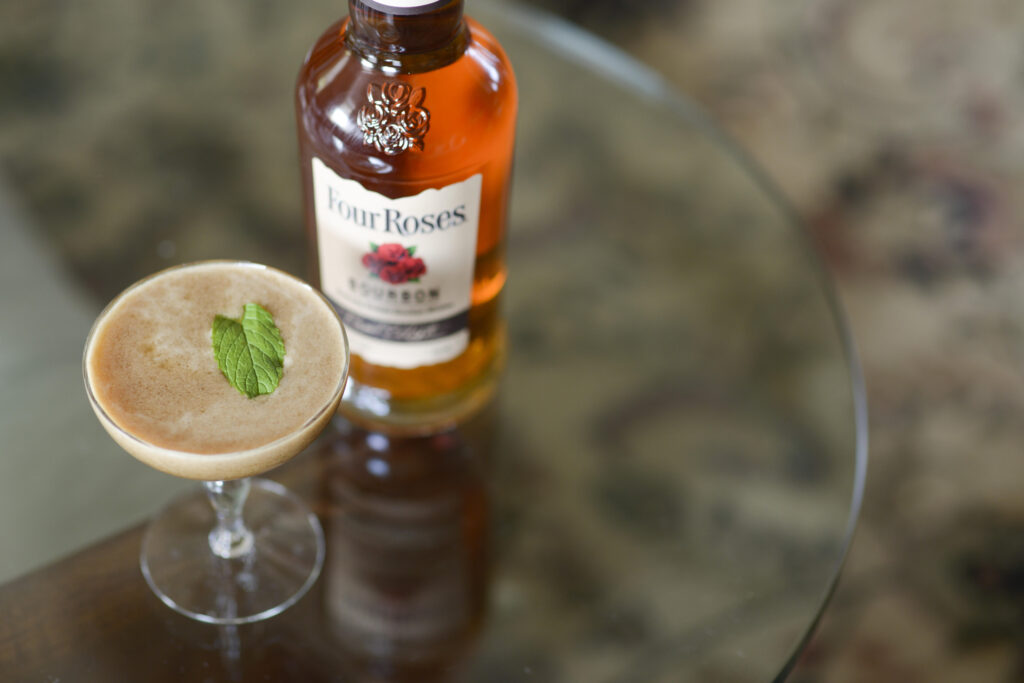 Maple Stax Pancake Cocktail 
Ingredients:
4-5 mint leaves muddled
1 egg white – be sure this is already separated
1 oz maple date vanilla syrup
.75 oz lemon
5 oz Four Roses Bourbon
Garnish: mint leaf and barrel aged chocolate bitters
Instructions: 
For the syrup:
In a metal bowl, over boiling water add:

16 oz of Maple Syrup (McCafferty uses Anderson's Maple Syrup
15-20 pitted dates cut into quarters
1 Madagascar vanilla bean cut in half

Let it reduce for 45 minutes or until desired flavor is reached
Let it cool for 30 minutes to an hour
Blend all ingredients and strain
For the cocktail:
In a shaker, muddle the mint leaves and then add all the ingredients listed above
Dry shake, then add ice and shake until cold
Double strain into a large Coupe Glass
Garnish with a fresh mint leaf and drops of barrel aged chocolate bitters
The Ultimate Savory Sweet Pancake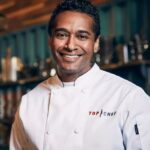 Chef Christopher Scott, who, as Executive Chef for Time Warner and CNN, cooked for international dignitaries, actors, professional athletes and top media personalities, is now a highly acclaimed restaurant and teaching chef. He's come up with the ultimate pancake feast:
Chocolate Pancakes with Chorizo and Chipotle Bourbon Maple Syrup
Pancake Ingredients:
1 1/3 cup all purpose flour
1/3 cup cocoa powder
6 Tablespoons sugar
1 ½ teaspoons baking powder
3/4 teaspoons salt
1/4 teaspoon baking soda
2 eggs
3 Tablespoons melted butter
¾ cup buttermilk
1 link chorizo
Syrup Ingredients:
1 dried chipotle pepper
3 cups bourbon
2 cups maple syrup
1 vanilla bean, split
1 star anise
1 teaspoon kosher salt
Instructions:
Pancakes
In a stainless bowl, add all dry ingredients, then add wet ingredients, whisk until smooth and set aside while you process the chorizo and bourbon maple syrup (below)
When chorizo and syrup are prepared and the pancakes are ready to cook, bring a sauté pan/flattop/cast iron skillet to a medium low heat. Add butter
When the butter is bubbly and beginning to brown, put in a small ladle of pancake batter. When bubbles form, flip!
Cook the other side for 2 minutes more and move to a plate. Keep warm
Repeat this process until you have stacks of chocolate pancakes
Using a slotted spoon, spoon some of the curled chorizo on top of the pancakes and then drizzle warm bourbon syrup
Garnish with shaved chocolate if you wish. Serve immediately
Chorizo
Remove casing and thinly slice link. I like to do it longways, so it'll curl when cooked
Render slowly in a sauté pan. When caramelized, set aside in the pan keep warm. (If you want to add some of the chorizo fat to the pancake batter, it's safe to add a couple of tablespoons)
Bourbon maple syrup
Add all syrup ingredients to a saucepan and bring to a slow simmer
Cook for 10 minutes and set aside
Serve warm if you like. Any remainder can be containerized for later use
Just in case you want to actually smell like a pancake breakfast, click here.
From sweet potato pancakes to brown sugar bourbon bacon to a tasty pancake cocktail, check out these chef-approved recipes for National Pancake Day.