Tossing and turning like never before? You're in good company. With all the unrest of the global pandemic, politics and schedules that are unlike anything we've ever experienced, most of us are stressed like never before. These days, we're never quite sure what we'll wake up to find.
It seems we all want to find a way to get comfortable, relax and sleep through the night, but no one wants to take sleeping pills to achieve that. The last thing we need is a penchant for pharmaceuticals right now.
So we've put together a selection of tried and true comfy sleep aids that work for us, which we think might work for you. The one thing they all have in common? They feel GREAT.
5 Tips For Improving Your Sleep
PJ Harlow Pajamas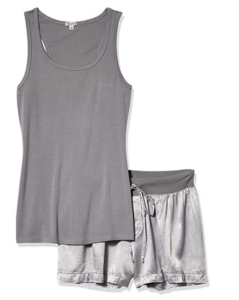 They're not inexpensive, but they may be the coolest, comfiest, sexiest and most practical PJ's you've ever had the pleasure of wearing. PJ Harlow makes silky pants, camis, long sleeve tops, draped cardigans, gowns, etc., in luxe colors like lavender, aqua, blush, navy, red, black, dark silver, eggnog and morning blue. Made of rayon and other fabrics, these PJs breathe, yet  don't bunch or wrinkle—you wake up looking as fresh as you feel after dreaming sweetly all night long.
$33—$168 on Amazon
SleepPhones
If headphones are too bulky to wear to bed and insertable earbuds are uncomfortable. SleepPhones may be just the thing. This lightweight headband could hide the most comfortable headphones ever made for sleeping, let alone studying, relaxing, traveling, working out, whatever. They feature a soft headband that contains thin, removable speakers to play music, white noise, radio… They're also fully padded with nothing awkward sticking into the ears, come in several colors and are so, so comfy!
$39.95 — $149.95 on Amazon and Sleepphones.com
BioFit 360 CBD Deep Sleep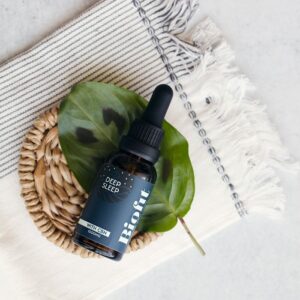 This is a real sleep breakthrough. For the first time, the medical professionals at BioFit 360 have combined CBD, CBN and Melatonin, to not only help you fall asleep, but allow you to stay asleep in a calm and restful state all night long — without feeling groggy when you wake! Users report replacing other sleep aids with this sweet tasting, all natural tincture. Each dropper contains 33mg CBD, 5mg CBN and 2mg Melatonin. It's their most powerful sleep aid yet!
$145 at BioFit360.com
Cariloha Weighted Bamboo Blanket
No matter what's keeping you up at night, the Cariloha Weighted Bamboo Blanket will make you feel as if you're lightly wrapped in a cozy cocoon, or possibly embraced in the arms of an angel. This model is made of sustainable breathable bamboo (naturally cooling and moisture-wicking) to help you fall asleep faster and stay asleep. It's weighted with innovative glass beads that provide deep pressure-touch stimulation to help relax the body. It's not inexpensive, but a good night's sleep is priceless and can even help enhance your immune system.
$249 at Cariloha.com
AmazonBasics Super Soft Microfiber Sheets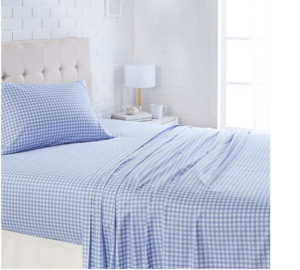 Have you tried microfiber sheets yet? Bed linen aficionados may turn up their noses at them, because they're not 1,000-thread count Egyptian cotton but these microfiber sheets have the advantage of being lightweight, super soft and easy care, meaning you can throw them in the washer with no need to iron. In addition, they come in about a zillion colors to match every bedroom. The fitted sheet has 16″ deep pockets and they're also reasonably priced. What's not to like?
$14.38—$25.69 for a set, depending on size, on Amazon.
Need a little something more? Why not try a Sound Bath?
These 5 tips for improving your sleep include some of the best non-prescription goodies available.