Grocery shopping is not the leisurely, social, even sensual activity it used to be. With long lines, masks and social distancing, it's most people's goal to get in and out of the market as quickly as possible — or better yet, have their groceries delivered, if it's not too expensive.
Because of this, many people are turning to home delivery meal kits. Who doesn't like mouth watering ingredients delivered right to their door? With accompanying recipes that are easy, moderate or difficult, depending on your culinary skill sets.
Home delivery meal kits save a considerable amount of time — no more searching through cookbooks to find a recipe you haven't tried before, no more long periods of time and frustration looking for that one particular ingredient you've never even heard of. And along those lines, no more lonely tins of a spice you'll use only once or twice, taking up room in your cupboard.
Do they save money? That all depends which service you chose and what you're comparing them to. Some provide restaurant quality meals, and although they're considerably pricier than what you'd likely spend on a meal you make yourself, you couldn't touch that quality and taste for the same price on takeout or in a restaurant —and you don't have to leave a tip!
But with so many different kits out there, it's hard to know which one to select. To make the decision easier for you, we at ReallyRather tried quite a few, and can now present some important info about our favorite five.
The Low Down on 5 Home Delivery Meal Kits
Gobble
At $78.93 for three meals, shipping included, or about $13 per meal, Gobble is a little pricier than most, but absolutely worth it! It's our favorite. Each kit comes with lots of fresh vegetables and delicious cuts of meat, plus they have plenty of Keto, family friendly and vegetarian options. The sauces and seasonings are absolutely divine, and best of all, most of the recipes we selected take only about 15-20 minutes to prepare — they're almost foolproof if you read the detailed directions carefully. In addition, Gobble comes with less packaging than many of the others, for a smaller carbon footprint. Gobble has a special offer for ReallyRather readers: Two meals for two for $18.
Home Chef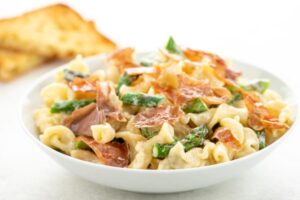 Not quite as elaborate as Gobble but also extremely tasty, Home Chef's recipes are also less expensive, most of them coming in at $8.99 per meal. Depending on the level of complication you select, Home Chef meals can take from 15-45 minutes to prepare. But for the non-chefs out there, you can actually get meals like Mushroom Swiss Chicken with Honey Mustard Green Beans and Crispy Onions, oven ready in its own pan, also for $8.99. Home Chef also has a special offer for ReallyRather readers: $35 off your first order.
Hello Fresh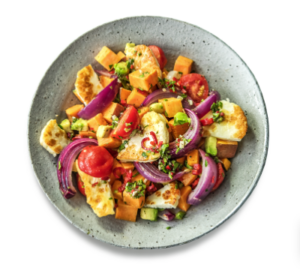 Hello Fresh claims to be America's most popular meal kit and with good reason: they have quite a few selections, starting as low as $7.49 per meal. Despite the name, we didn't find as many fresh ingredients included in the Hello Fresh packages, and a few more processed foods, but the flavor is no less vivid and satisfying. We love the large, 8 by11″ recipe cards with a full color photo of the dish on one side and very specific instructions and interesting food facts printed on the other. Their recipes are fun to read and follow.
EveryPlate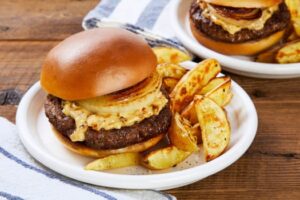 EveryPlate claims to be America's best value meal kit, and at only $4.99 per serving we can't argue — it's a killer deal! Leaning less toward exotic and more toward more basic comfort food, for that price you can't complain that many of the meals are a little heavier on starch then some of the other home delivery meal kits. You get at least 13 different selections to chose from every week, and most of the recipes are extremely kid friendly. EveryPlate is definitely the best option for bigger families.
Blue Apron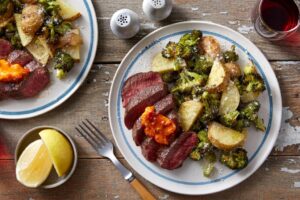 Word has it that Blue Apron originated the idea of home delivery meal kits, so they've had time to figure out how to recycle some of their packing material, which is a big deal. Many of their recipes are on the exotic side, combining ingredients you wouldn't dream of, but they end up coming out remarkably tasty. We experienced some delivery and supply issues — you can't always get what you want. But that could just be a pandemic issue. Blue Apron costs $9.99 per serving and offers free shipping if you opt for three recipes that feed two people per week, totaling $59.94 per week.
With grocery shopping and restaurant dining more challenging than ever, many people are opting for tasty home delivery meal kits. Which would work for you?