Who really needs another sweater, electronic gadget, or pair of shoes this year, with so many life changing gifts available? This year, more than ever, we can all use gifts that do so much more than keep us warm, please our palates or entertain us for a few minutes.
Ideally you could give your loved one something that enlightens, enlivens or perhaps expands that world that seems to be shrinking by the minute. A new direction? A new career? A new look? A new outlook? How about giving a truly life changing gift?
As with everything else these days, gifts that can make profound, life changing differences can be had with the click of a mouse, the press of a digit. We've collected five life changing gifts that the Really Rather team has tried and can personally vouch for. Upgrades in life satisfaction, income and wellbeing have alll resulted from these unique and thoughtful gifts.
Whether you give them to motivate someone you love, or use that check your grandmother writes you every year on a little something for yourself, you can't go wrong with any of the following. Take look at our suggestions for
5 Life Changing Gifts That Can Make a Real Difference
Her own website: ReallyRather.com
Yes, you read that right. ReallyRather is for sale! The current ownership has taken it about as far as they have the power to go, and believe it could be so much more!
It's something that could make a real difference in the life of, say an influencer who wants an SEO enhanced blog with a high domain authority, or perhaps a company wishing to promote their own products on a website that already gets great traffic and has high SEO rankings.
ReallyRather is also of great value to the company helping enhance the SEO and domain authority of others—all features are very attractive and professionally laid out. Clients have a real sense of pride being featured on the site.
Plus, it's just fun running this website! Great companies are constantly reaching out, requesting to be featured and/or reviewed, and willing to send valuable samples. There are myriad requests for income producing sponsored content and links. So many, in fact, that we only have time to take advantage of a fraction of them.
We're not asking a king's ransom for ReallyRather. We'd really rather see it go to someone who can appreciate it. If interested, please reach out to Info@reallyrather.com.
MasterClass Subscription
MasterClass is the streaming platform where you can learn from the greatest minds in fascinating fields. These 20+ lesson classes are taught by icons including Gordon Ramsey and Wolfgang Puck on Cooking, Martin Scorsese, David Lynch, Spike Lee and Ron Howard on Filmmaking, Stephen Curry on Basketball, Annie Leibovitz on Photography, Natalie Portman and Helen Mirren on Acting, Carlos Santana and Tom Morello on Guitar, Steve Martin and Judd Apatow on Comedy — to name just a few! The list goes on and on. Stream anytime, anywhere, at your own pace.
Members get a one year subscription with unlimited access to all 90+ instructors across 9 categories with an Annual Membership. As a holiday bonus, you can get two memberships for the price of one: $180. Give a gift, get a gift. Nice!
Better Sleep
If you or someone you love is among the 33% of all Americans who have trouble sleeping, you're probably aware of a supplement or two, and you'll be thrilled to know that at last, an ingenious company called "Proper" has come up with a combination of sleep coaching and sleep supplements that really works. And we should know — we've tried them all.
What makes Proper unique is their individualized formulations that not only help you get better sleep, but can also assist in resetting your sleep cycle, reducing everyday stress, improving cognitive performance (we love and need that one) and supporting immune health. Some even have CBD (but no THC) in them! They come in a nifty bottle that is refillable when you sign up for a prescription. Prices start at $39.99 and go up to $89.99 for a month's supply. You save 10% and get free shipping when you subscribe.
Another unique feature of Proper is their individualized sleep coaching. We tried a personalized, one-on-one session, and we couldn't believe all we learned about sleep patterns, why we were having trouble sleeping and what we could try to remedy that — our coach gave us simple suggestions that are very easily applicable. Coaching plans range from $65.99 to $175.99, and this alone could be a truly life changing gift with immediate results that last forever.
Perfect Color Consultation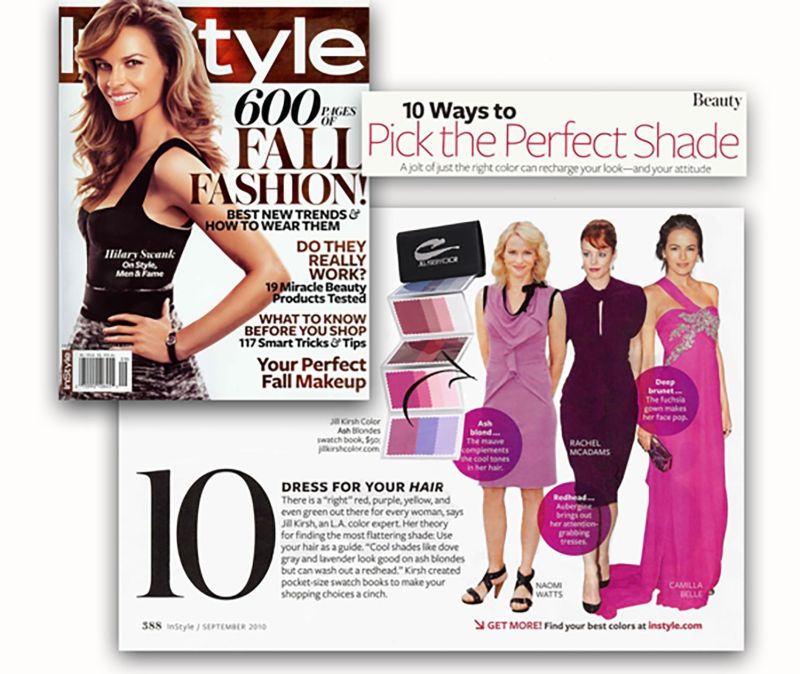 Whether you're trying to ramp up your Zoom game or just tired of looking in the mirror and seeing the same old reflection, a color consultation from Hollywood Guru of Hue Jill Kirsh could change everything. It seems we're all on camera these days in one way or another, and whether this gift is for you or someone you love whose image and spirits could use a little lightening, Jill's your girl.
Jill's two hour, one-on-one color consultation helps you identify the colors that take you from blah to ah, using her unique system based on your hair color, not that tired old seasons vibe. During the virtual session, Jill will not only demonstrate which colors look best on you, but will go into your closet (virtually) and help you decide what to and what not to wear.
In addition, she'll take you shopping on her site for her color coordinated cosmetics and scarves in the best shades for you, and she'll send you an all important customized swatch book filled with fabric swatches in all your best shades, to use as a guide for shopping for everything from tees, nail color and eyeglass frames to party dresses, stilettos—even interior design!
The price of this consultation package is $500, and that also includes future access to Jill for any questions you may have or any pictures of different outfits you'd like her to see. AND (here's the good part) Jill is offering Really Rather readers a 15% discount code (reallyrather15 ) through January 1, to be used for a consultation and/or any of the great cosmetics and scarves on her site.
We've used all her products, and it's worth it for the added self confidence alone. By following Jill's advice, we know we never waste money on the wrong color products, and look as good as we possibly can.
Great Reading/Listening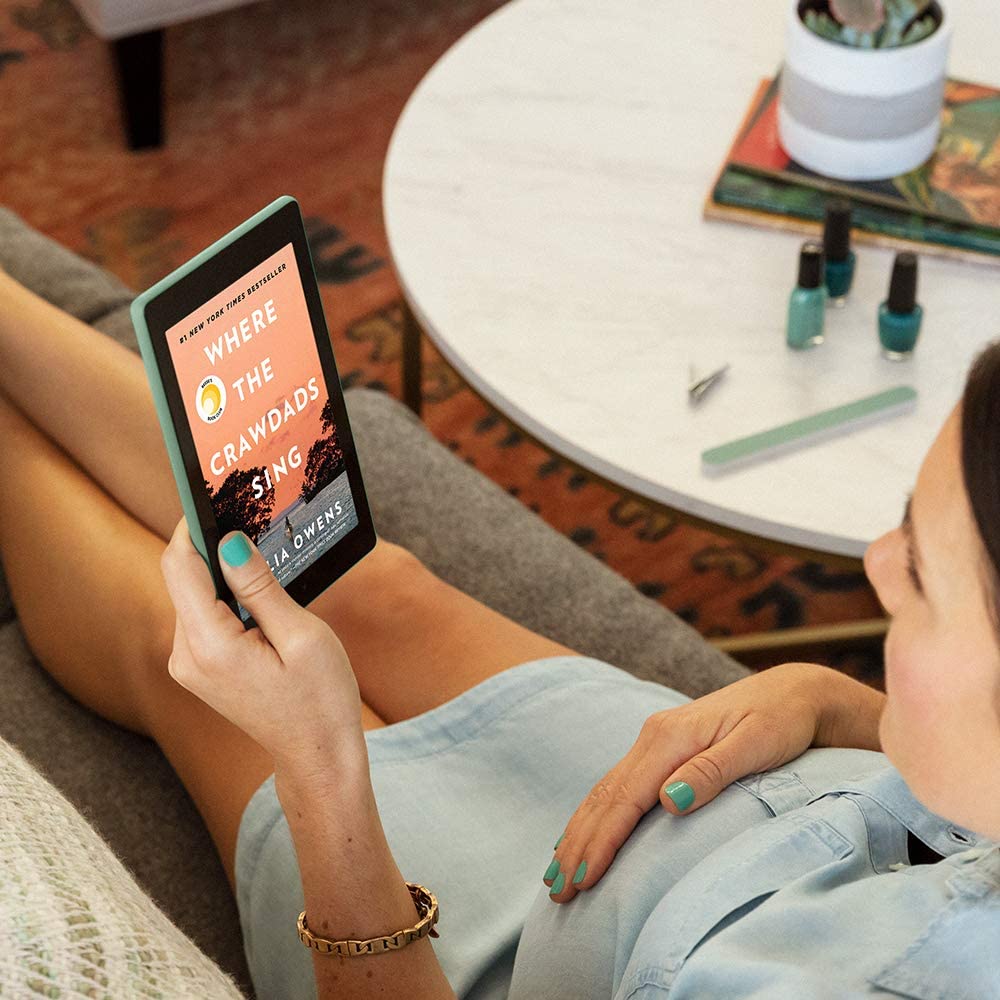 Be transported to another world, become more educated, cultured and caring, or just enjoy good old entertainment any time of the day or night with an E-reader and an accompanying subscription to Audible. There are some who say they just can't give up the feel or smell of real paper, but most people convert when the realize the convenience of the E-reader.
We're big fans of the Kindle, which is especially great if you don't have the room, motivation or budget to buy, store and move myriad hard copies. Plus, the ability to read a chapter or two of a book before you buy it is invaluable. Kindles run in price fro $49 for a Fire 7 tablet, to $249.99 for a Kindle Oasis or a Paper White with all the bells and whistles.
If you're getting this gift for someone who spends a lot of time in the car, cooking, or doing things with their hands that don't require undivided attention, they'll also love a subscription to Audible — they can listen on their Kindle. Right now, you can get a six month subscription for only $4.95 per month. That includes one title per month, 30% off others, and unlimited popular podcasts as well.
If you want to give meaningful presents this year that could last forever, check out these 5 life changing gifts.