If there's ever been a holiday season when we could all use a good laugh, 2020 is definitely it. Why not end the year with a smile, and yes, some Instant Underpants? SO much more fun than a designer mask, darling.
We searched high and low for these five surprising 
joke gifts
. Some are actually kind of cute and/or useful, while others are just plain ridiculous. All are certain to amuse, mildly or otherwise, and sure to be overwhelmingly popular at next year's gift exchange or Bunco party.
5 Surprising Joke Gifts
Two things guarantied to make you happy: Snoopy and warm feet. Put 'em together and whadaya got? Snoopy USB heated slippers. Plug them into any compatible USB port (computer, laptop, couch, etc.), then unplug them and do a happy Snoopy dance in your cute, now warm slippers. Perfect for the hard-to-buy for person who has everything.
Instant Underpants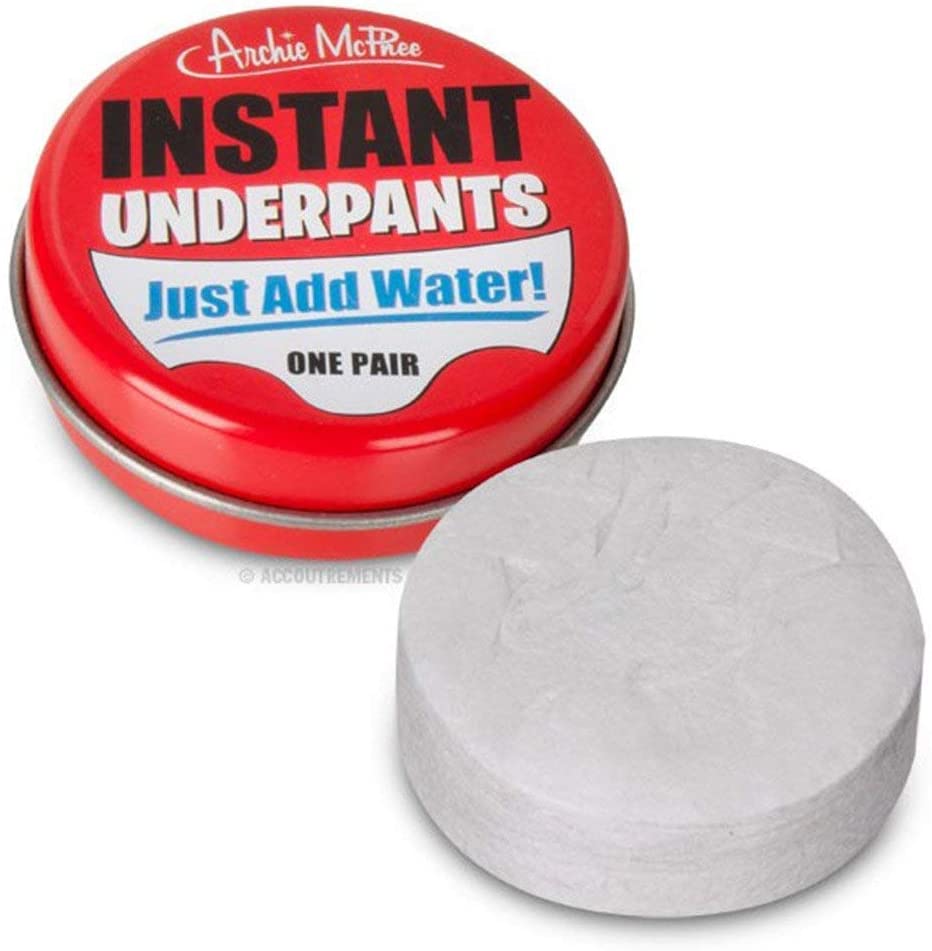 Just the word 'underpants' makes us snicker, but put the word "instant" in front of it and it's time to ROFL. Especially when you see that these guys come in a nifty little old timey tin that instructs you to "Just add water!" Yes, they're compacted, and with a little H2O they expand enough to fit man, woman or child, according to the product description. Who can resist?
$13.99 on Amazon
Not-So-Great-Gift Cards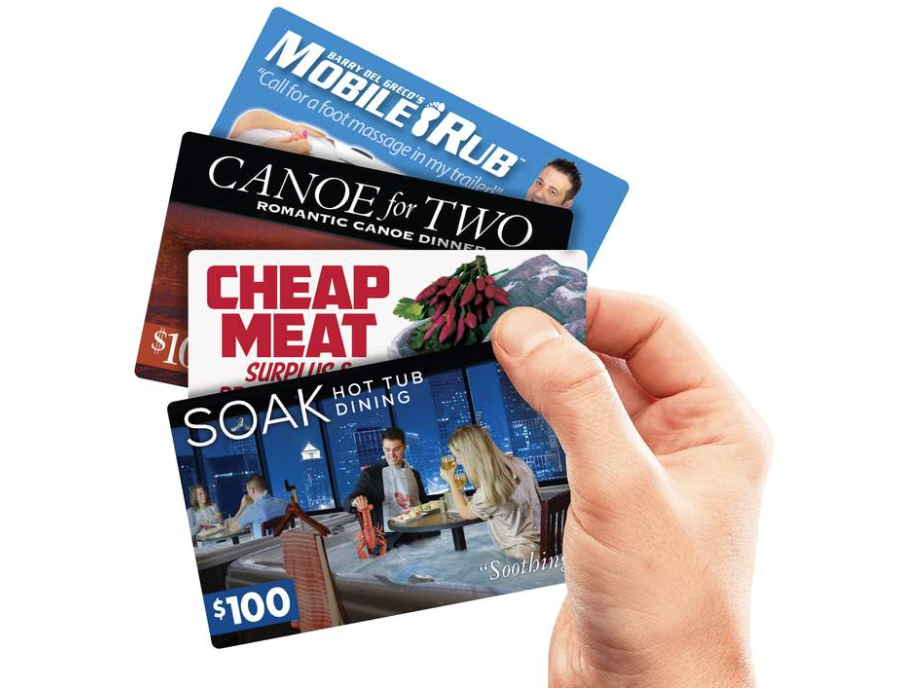 Four $100 fake gift cards? That's a $400 fake value! Imagine the joy turning quickly to puzzlement on your chosen gift getter's face when he/she receives gift cards for SOAK: the
only
hot-tub dining experience; MOBILE RUB: a $100 gift card to Barry Del Greco's Mobile massage service – he's willing to meet you anywhere; CANOE FOR TWO: Possibly the worst dinner cruise experience ever, considering it's, well, a four-course dinner on a canoe; CHEAP MEAT: expired, poor quality meats of the highest cut and quality. All come with links to fake websites like
this one
, in case some hopeful soul takes them seriously.
Hamilton Beach Breakfast Sandwhich Maker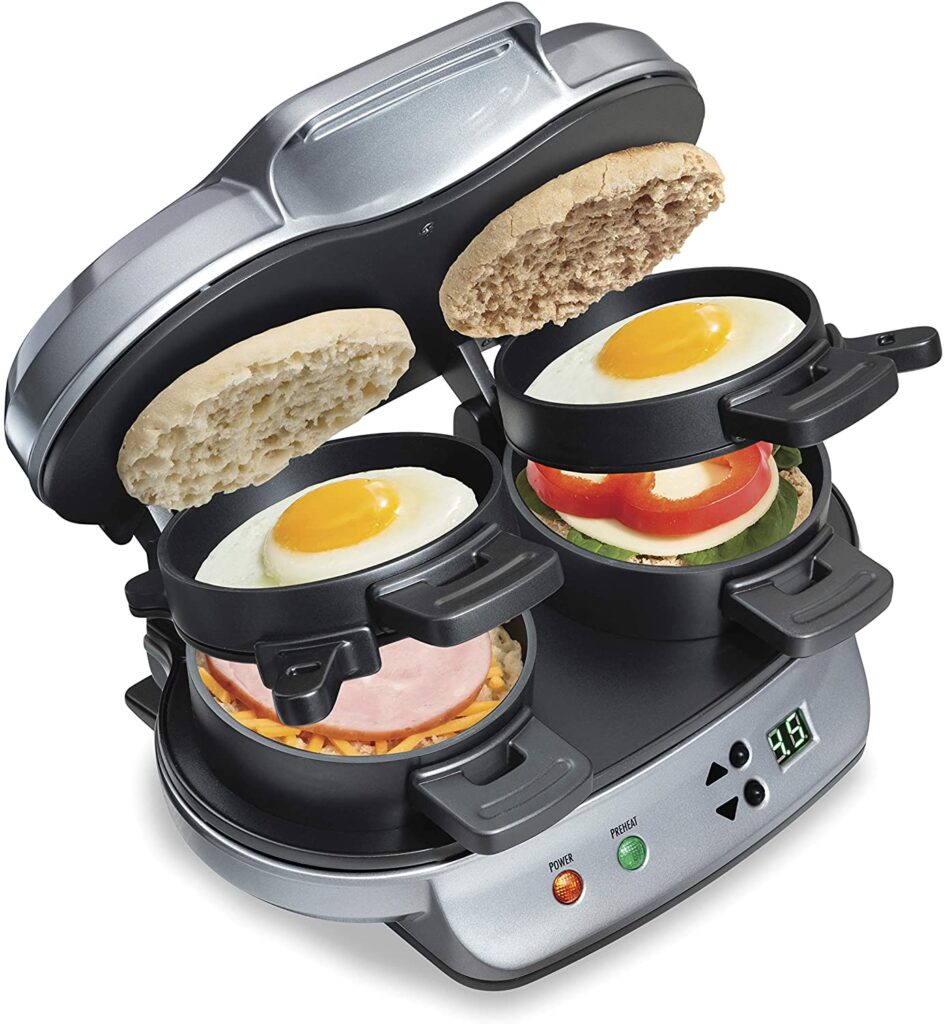 We're actually kind of serious about this one, because who wouldn't want to make a tasty handful of breakfast in just 5 minutes? It's a toaster, it's a frying pan, it's a sauté pan, it's all in one, as it toasts your English muffin, melts your cheese and cooks your egg, veggies and bacon all at the same time! And this little beauty makes two at once. What will they think of next?
$39.99 on Amazon
Desktop Inflatable Tube Guy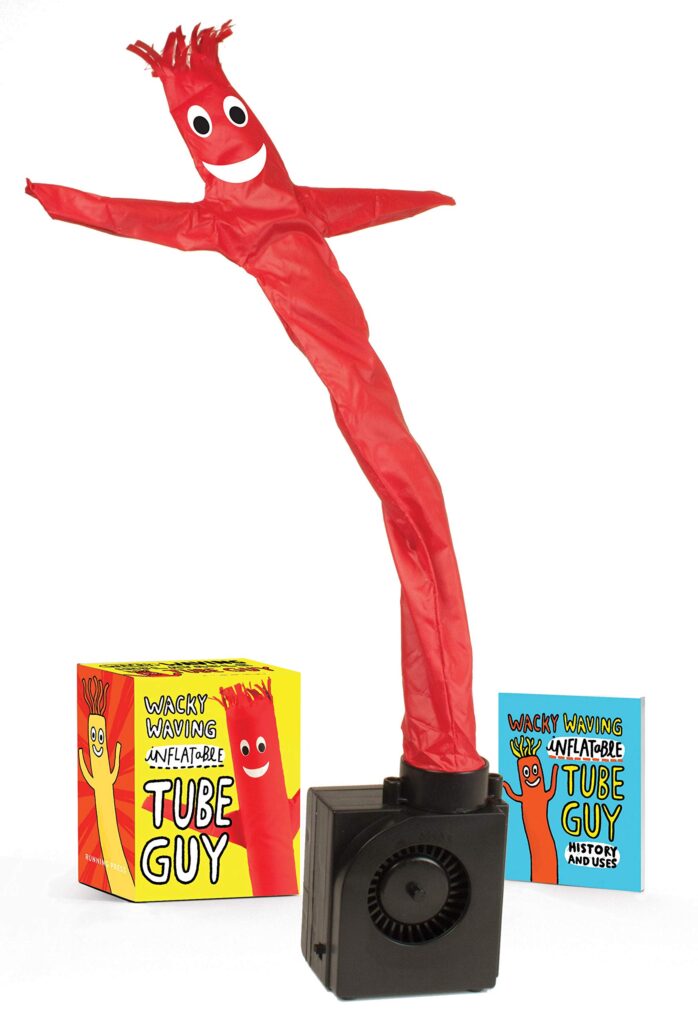 Think of the zing added to Zoom meetings and online classes! This package includes an 18-inch waving tube man with a battery operated fan in the base to make him dance, wiggle, and shake just like the real, gigantic thing, and a 32-page mini book exploring the larger than life (and utterly surprising!) origins of everyone's favorite flailing arm man. It's by far the best deal on the list. We want one!
$7.99 on Amazon
See pumpkin spice flavored/scented freaky joke gifts here.
Add some much needed levity to this holiday season with these surprising joke gifts that are certain to make even the most stoic snicker.