For many of us, being home more means cooking more. If you have a family, it seems like the kids are asking for a new snack every 20 minutes. We want them to eat healthy, but they quickly tire of carrot sticks, apple slices and cherry tomatoes. What to do?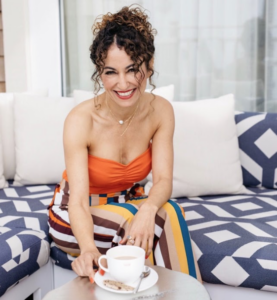 Chef Mareya Ibrahim, chef, holistic nutrition coach, author and award-winning entrepreneur, inventor and founder of Eat Cleaner, has made it her mission to share the "wealth of health" with those of us who are struggling to keep it clean, and has mastered multiple ways to turn veggies into yummy snacks. She's shared 5 easy-peasy (pardon the pun) recipes even the most reluctant veggie eaters will love.
5 Recipes to Turn Veggies Into Yummy Snacks
MIXED ROOT VEGGIE CHIPS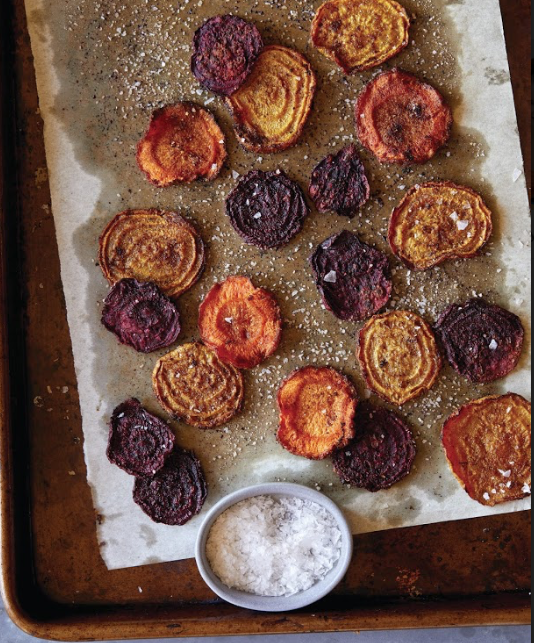 Talk about a fun way to eat the rainbow! You can use big carrots, beets, purple sweet potatoes, and parsnips to get a whole array of color on your plate. The best way to get these veggie chips uber thin is by using a mandoline slicer, but a strong word of caution: Please be careful. Use the cutting guard and don't multitask while you're slicing. Keep your focus on the very sharp blade in front of you. I don't want you making a finger chip. You can also use the slicing attachment on your food processor, or a special chopping tool.
INGREDIENTS
6 medium assorted root veggies (carrots, golden beets, purple beets, sweet potatoes, parsnips, turnips), sliced paper-thin on a mandoline (4 cups total)
3 tablespoons extra-virgin olive oil
1 tablespoon ground cumin or turmeric
Himalayan pink salt
DIRECTIONS
1) Preheat the oven to 325°F. Line a large baking sheet with parchment paper or a silicone baking mat.
2) In a gallon-sized container, toss together the sliced veggies, olive oil, and cumin, rubbing the oil over all the surfaces to coat.
3) Arrange the veggies in a single layer on the prepared baking sheet and sprinkle with salt. Bake until crispy, 25 to 30 minutes. Remove from the oven and let cool for 5 to 10 minutes before enjoying.
CRUNCHY FLAMIN' CHICKPEAS
Forget about flaming snacks that stain your hands permanently. These crunchy legumes give your metabolism a nice boost with a clean snack that satisfies your need to crunch—and no Day-Glo orange dust.
INGREDIENTS
4 cups canned chickpeas, drained, rinsed, and patted dry
2 teaspoons raw coconut oil, melted
2 teaspoons ground cumin 1 teaspoon chili powder
1 teaspoon cayenne pepper 1⁄2 teaspoon smoked sea salt
DIRECTIONS
1) Preheat the oven to 400°F and position a rack in the middle of the oven. Line a rimmed baking sheet with a silicone baking mat or parchment paper.
2) In a large bowl, combine all the ingredients and toss until the chickpeas are evenly coated.
3) Spread the chickpeas in an even layer over the prepared baking sheet and bake for 40 minutes. Remove from the oven and let cool for 30 minutes (the longer they cool, the crispier they'll get). These don't store for long without getting soggy, but wrapped up tightly in a cone of parchment paper, they'll last for 3 to 4 days.
RAINBOW VEGGIE QUICKLES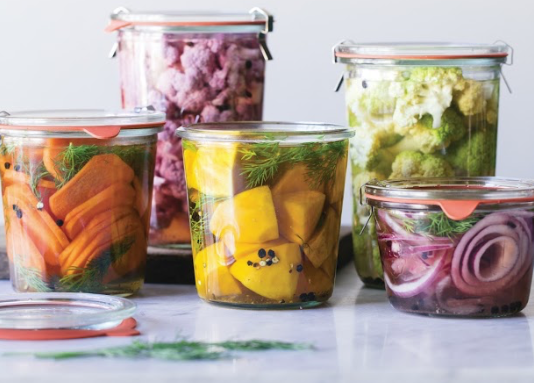 These quick-pickled veggies that I affectionately call quickles are ready to eat in less than an hour but get better with time. Pickled veggies are a big part of my upbringing, and one of my favorite things to keep in the fridge to complement just about every meal. The addition of sour pickled prebiotic probiotic goodness will really start to shift your gut health, and the multicolored veggies are the best way to make sure you're eating the rainbow.
QUICKLE JUICE
3 cups raw unfiltered apple cider vinegar
1 tablespoon whole black peppercorns
2 tablespoons fresh dill leaves
2 teaspoons sea salt
1 teaspoon granulated stevia
VEGETABLES
1 onion, quartered and thinly sliced
2 cups small cauliflower florets (use a mix of purple and green cauliflower for fun color)
2 carrots, sliced on a mandoline or cut into 1⁄4-inch- thick slices with a knife
1 cup small-diced yellow or red beets
DIRECTIONS
1) MAKE THE QUICKLE LIQUID: In a medium saucepan, combine all the quickle liquid ingredients with 1 cup water and bring to a boil.
2) Place each vegetable in a glass jar with a lid. Pour enough quickle liquid into each jar to cover the vegetables completely. Let cool to room temperature before sealing the jars.
3) Store the quickles in the refrigerator for up to 2 months. Make sure to keep the jars sealed airtight for maximum freshness, and use a clean fork or spoon when removing quickles from the jars.
ZUCCHINI CARPACCIO AND ARUGULA STACK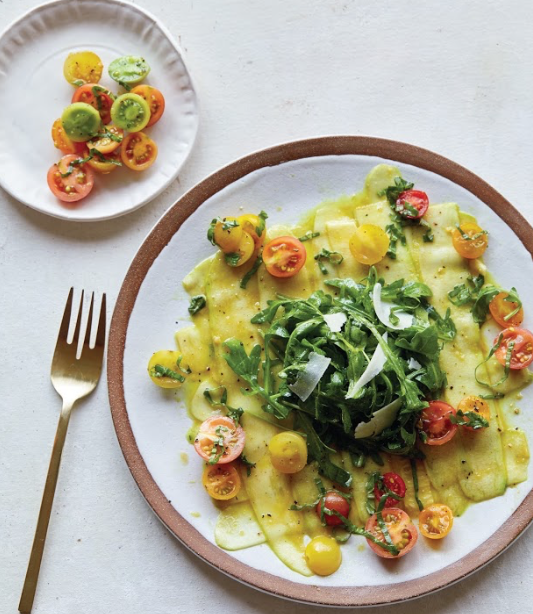 INGREDIENTS
4 zucchini, sliced into thin sheets with a mandoline or veggie peeler
1⁄4 cup plus 2 tablespoons The Real Dish Dressing (page 26)
1 cup arugula
1⁄4 cup grape tomatoes, sliced
1⁄4 cup grated Pecorino cheese
Freshly ground black pepper
DIRECTIONS
1) Put the zucchini slices in a shallow dish and pour over 1⁄4 cup of the dressing. Marinate for at least 30 minutes and up to
2 hours.
2) On a large plate, arrange a layer of the zucchini strips, then add a layer of strips perpendicular to the first, for a fun grid pattern.
3) In a small bowl, toss the arugula and tomatoes with the remaining 2 tablespoons dressing.
4) Arrange the arugula and tomatoes over the zucchini carpaccio and finish with the pecorino and some freshly ground black pepper.
GUACAMOLE BELL PEPPER NACHOS
BEST GUAC EVAH!
INGREDIENTS 3 ripe avocados
1 teaspoon grated lime zest
Juice of 2 limes
1 small red onion, finely minced
2 garlic cloves, minced
2 tablespoons minced fresh cilantro
1⁄2 teaspoon ground white pepper
1⁄2 teaspoon Himalayan pink salt
1⁄2 teaspoon ground cumin 1⁄4 teaspoon cayenne pepper
3 bell or pasilla peppers, sliced lengthwise into 2-inch "tortilla chip" shapes, for serving.
Mareya Ibrahim, The Fit Foodie, nationally recognized food expert, founder of EatCleaner.com and author of the #1 new release, "Eat Like you Give a Fork: The Real Dish on Eating to Thrive" She is the founder of Grow Green Industries, INC. and the creator of the Eat Cleaner line of food wash and wipes. Mareya is also the author of "The Clean Eating Handbook," Mareya is also the host of the new podcast "Recipes for Your Best Life,, was a featured chef on the Food Network, eHow.com, Livestrong.com and the Emmy- nominated cooking show, Recipe Rehab.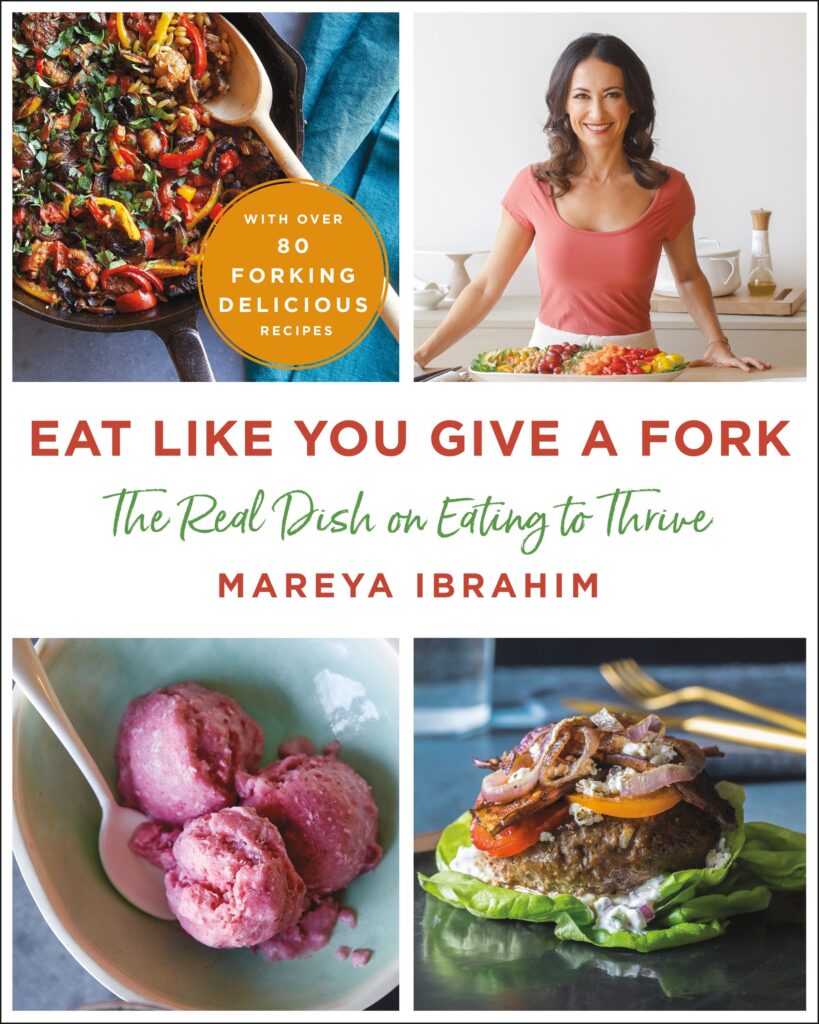 If you're tired of yelling "eat your vegetables," Chef Mareya Ibrahim has some great ways to turn veggies into yummy snacks that are practically irresistible.