Instagram isn't just about pics of plates overflowing with food, influencers promoting their trout-pout selfies, family members bragging, or adorable animals. Some of the funniest folks (and cats) on the planet can brighten your day with their hilarious, self deprecating posts and video shorts. Here are some of our faves:
5 Funniest Instagrammers
TreyNKennedy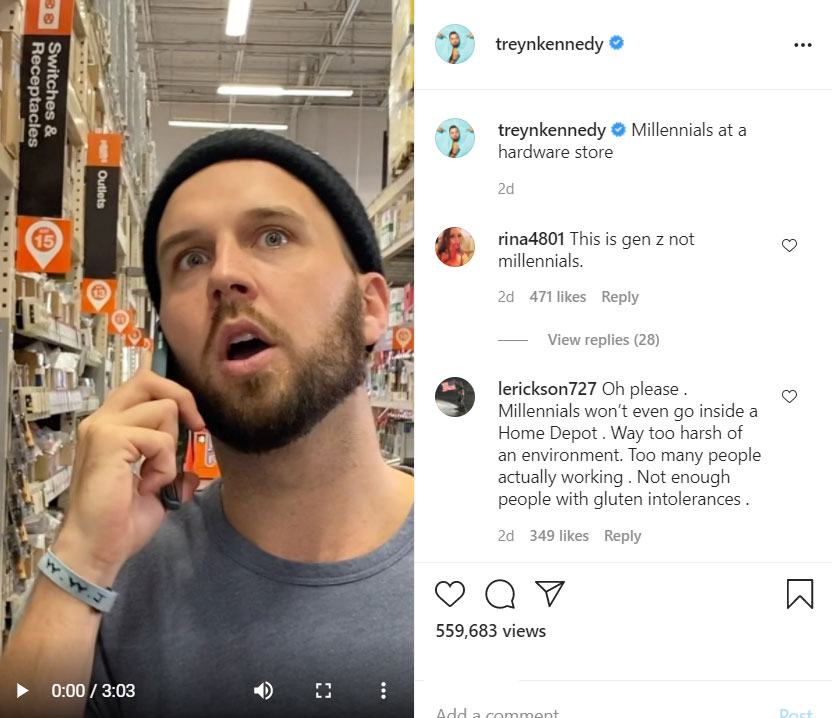 Trey Kennedy is a standup comedian who got famous on Vine, then Vine went bye-bye. So now he's splitting sides via his Instagram account. His funniest videos include People Who Shop at Walmart vs Target, When Experts Contradict Themselves, and Millennials vs Boomers in 2020. Trey shows off his considerable talents by playing all the parts himself and employing lively editing techniques.
CharlieBerens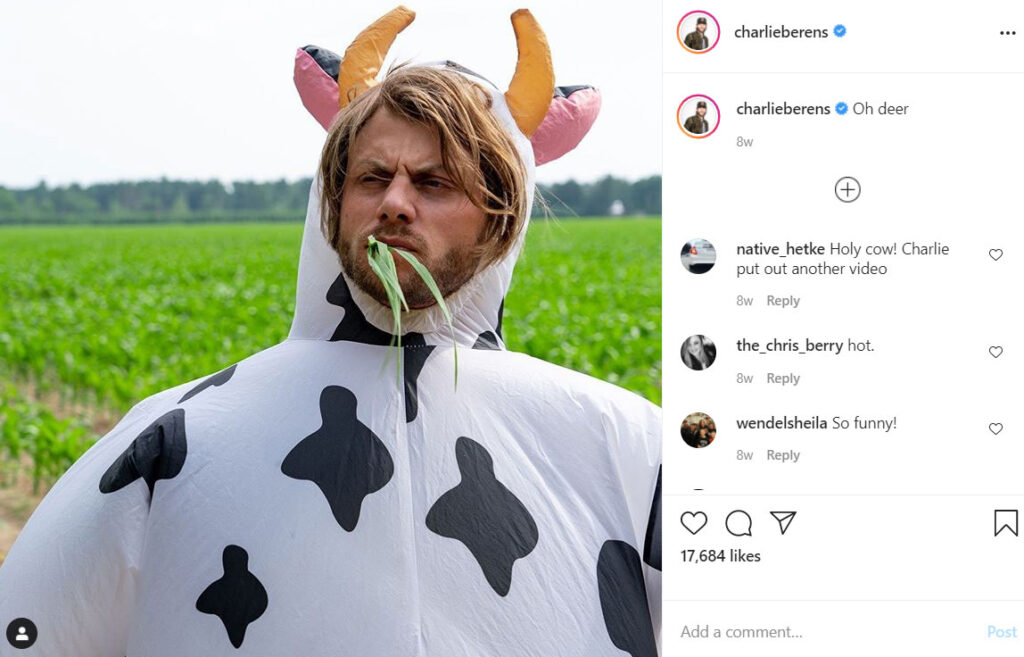 Charlie Berens is all about the Midwest humor. From Wisconsin, he goes for the cheesy, down-home tone, and boy, does he nail it! His fake trailer for a Midwest Horror Film will have you crying with laughter, as will his homage to "Wisconsin's State Bird," the mosquito, in a bite-sized video called Mosquito Sees Therapist (he plays the doctor and the insect).
OldSchoolDads

Not for the prude, OldSchoolDads features daily posts of the funniest, freakiest, most far-out dads from decades past. Brace yourself for plenty of polyester, stadium-sized afros and raunchy references. Created by Chase Banta on a lark while sifting through old family photos, he says "I found myself reveling with the most awe at pictures of my dad who, apparently, was a one-man '80s monument constructed to honor the perm, short shorts, and some odd form of iconic dad-coolness that I'm 100% certain I'll never achieve." The account has grown to gargantuan proportions with an avid following.
CelesteBarber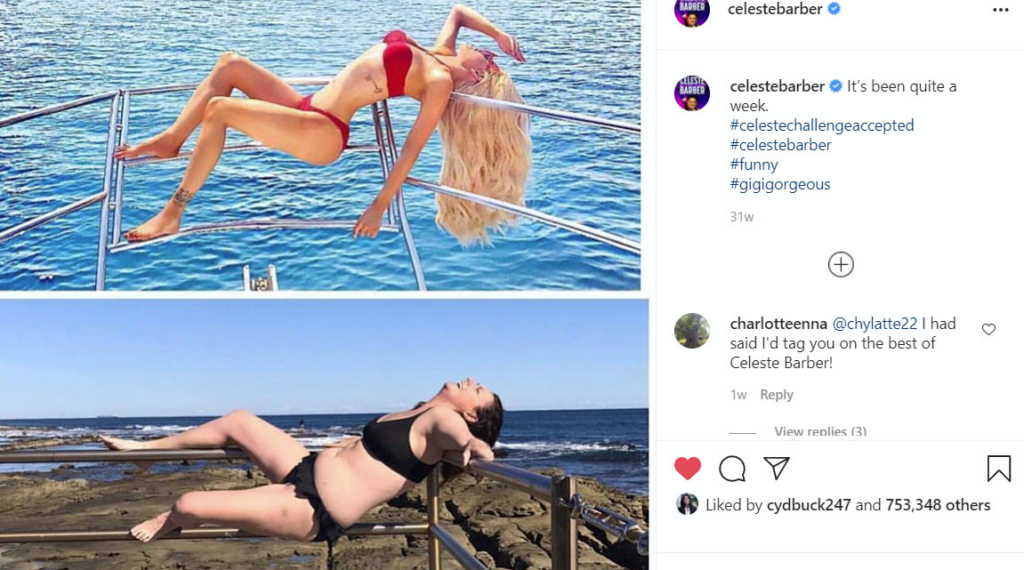 If you're not following Celeste Barber, the Australian queen of comedy and 30-something mom, you are missing out on a boatload of #LOLs and *grins.* Through her verified Instagram account, Celeste has made an art form from the ever popular "Challenge Accepted" theme. She finds stills or videos of supermodels, actresses, and celebrities, then recreates them as parodies to hilarious effect.
Smudge_Lord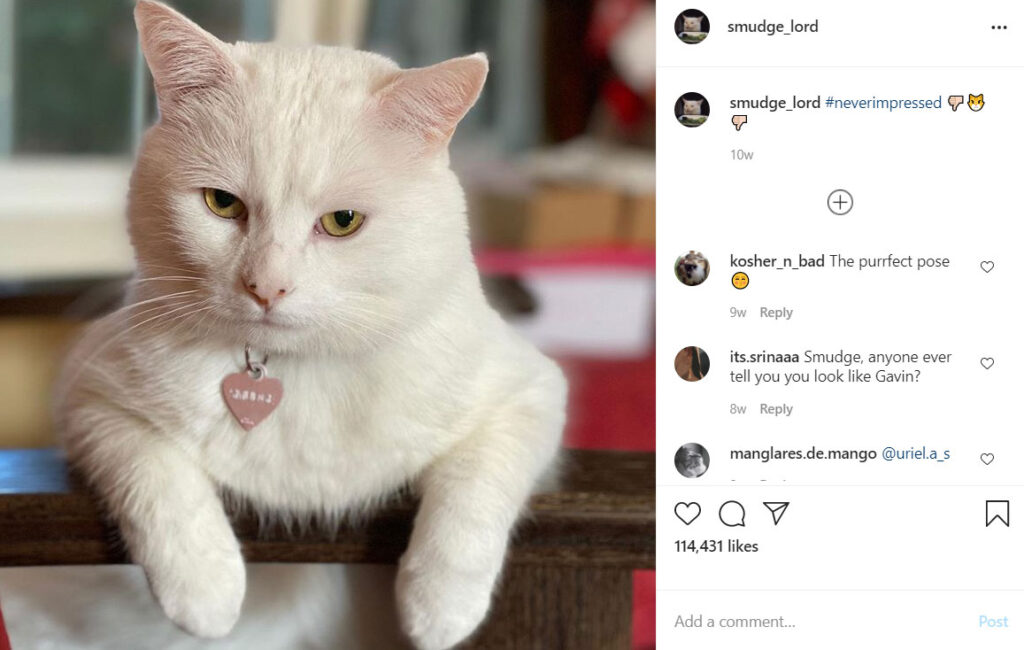 Come on, you didn't think we could post anything about the internet without including a cute cat, did you? No social media megastar post would be complete without at least one four-legged friend. You may not know Smudge by name, but you have seen him in countless viral memes side-by-side with the pointing, screaming Real Housewife in the "Woman Yelling at a Cat" sensation. In his official Instagram account, Smudge is a modern-day Morris, who hates nearly everything… especially "vegetals."
Find out who are the top earning Bachelorette contestants on Instagram here.
We all could use a good laugh these days, so why not take a look at who we think are the 5 funniest Instagrammers out there?