With the new live action Mulan galloping onto a small screen near you via Disney+, you can't help but wonder how these hybrid-live action Disney films are faring in comparison to the original animated versions. We all have our own opinions about how both versions of films like Aladdin and Beauty and the Beast compare, oui?
Reviews.org wondered the same thing, and decided to take a look at which have traditionally been more popular, the animated version or the hybrid live-action version. They gave each film a score, using a combination of IMDb ratings, box office earnings and America's vote on Reviews.org as metrics. Their findings are found in the infographic below, but first, here are five fascinating takeaways from their research. (Spoiler alert! The original animated versions win almost every time.)
The king of Disney films is the 1994 version of The Lion King, scoring top marks in all three categories.
Nearly every Disney original film outscores the remake, with the exception of Sleeping Beauty and Maleficent.
On average, Disney's remakes score up to 80 points lower than the original films on IMDb.
Critics may ding Disney for reimagining classic films in a live-action format, but it's paid off for the studio. In total, Disney's remakes have earned $8.76 billion at the box office! From a financial standpoint, live-action remakes may be the studio's glass slipper—a perfect fit.
While Disney fans have supported remakes at the box office, our survey shows the originals are all preferred over the remakes.
Here's the official rundown of Disney Classic Animation Vs Live Action Remakes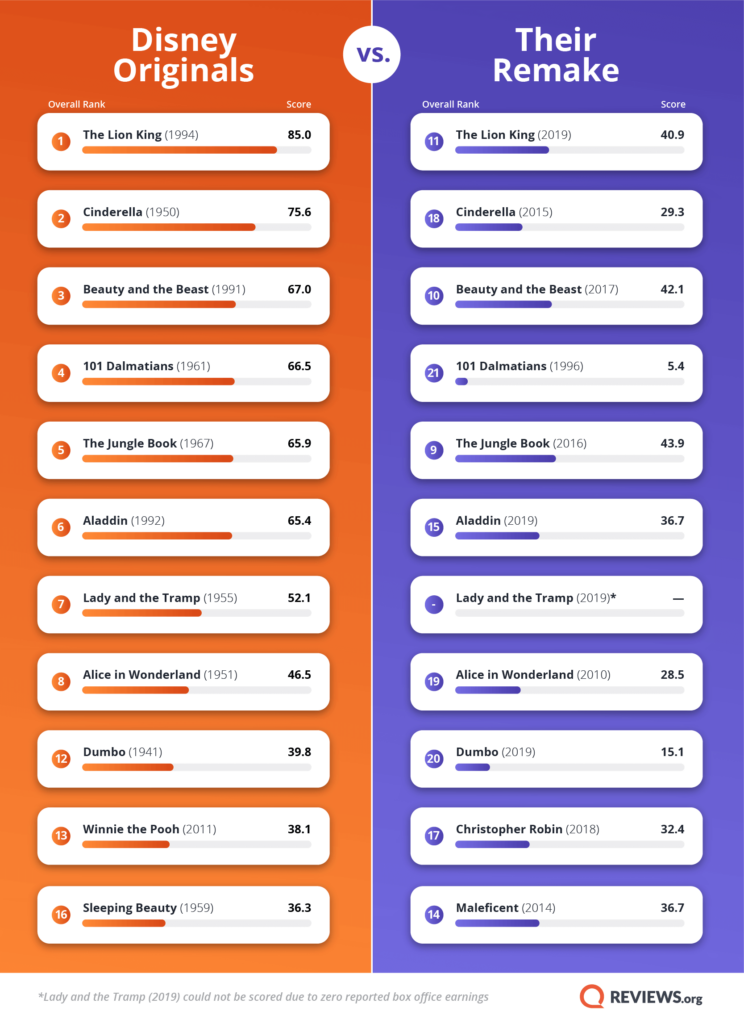 Want to see which Pixar movies are the most popular in each state? Click here.
Ever wonder which would win in the battle of Disney classic animation vs live action remakes? Here's your answer.