Did you think that the amount Bachelor contestants make for their efforts depends on the number of episodes they manage to endure? AT&T's All Home Connections reveals the real truth about the top earning Bachelor contestants, and the way they make their cash may astound you. The real bucks come from social media influencer earnings— and you'll be overwhelmed by how much they make!
For example, Hannah Brown now has 2.6 million followers, and gets a whopping $5,260–$8,767… per post! No kidding! Granted, she went on to become The Bachorlette and win Dancing With the Stars, but even Victoria Paul, who is estimated to make the least amount of money per post of contestants from Season 24, makes $751–$1,252 per post.
It seems that over the last two seasons, on average, contestants of the show see an 11,403% increase in followers. That's wild! No wonder so many of them quit their day jobs to be on the show—if they stand out in any way, they'll make a lot more as influencers after the final rose.
Just take a look at the 5 Top Earning Bachelor Contestants from the last two seasons, and swoon over how much they make: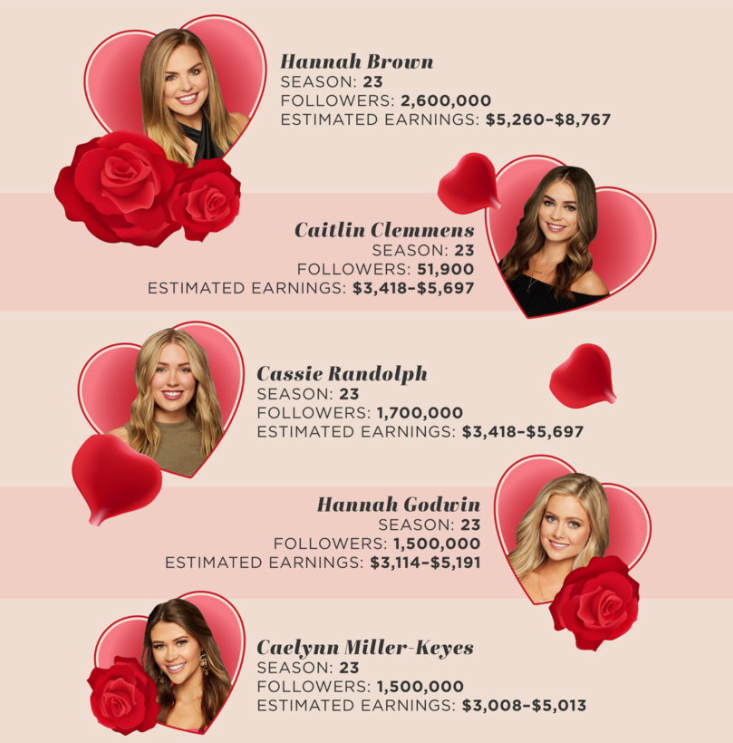 And what happened to Madison Prewett, you may ask, the final contestant who was the favorite to win and actually had Peter's heart (for a few minutes)? She comes in 9th on the list, behind Demi Burnett, who went on to make waves on Bachelor in Paradise; Tayshia Adams, who also was a big hit on Bachelor in Paradise; and Katie Morton, a definite fan favorite.

When you find out how much the 5 top earning Bachelor contestants make and how they make it, you'll want to quit your day job