"There's no place like home." Especially if you're living in Frisco TX or Elk Grove CA, according to a recent study done by LawnStarter.com.
They had experts crunch the data and statistics for the 150 most populated cities in the US, and compared them using 29 metrics, ranging from life expectancy and number of health care providers to air quality and median household income. They grouped these metrics into five categories:
Community safety
Health and wellness
Natural hazards
Financial safety
Digital security
Wondering if your city might be on the list of America's Best Stay at Home Cities? Here's the breakdown: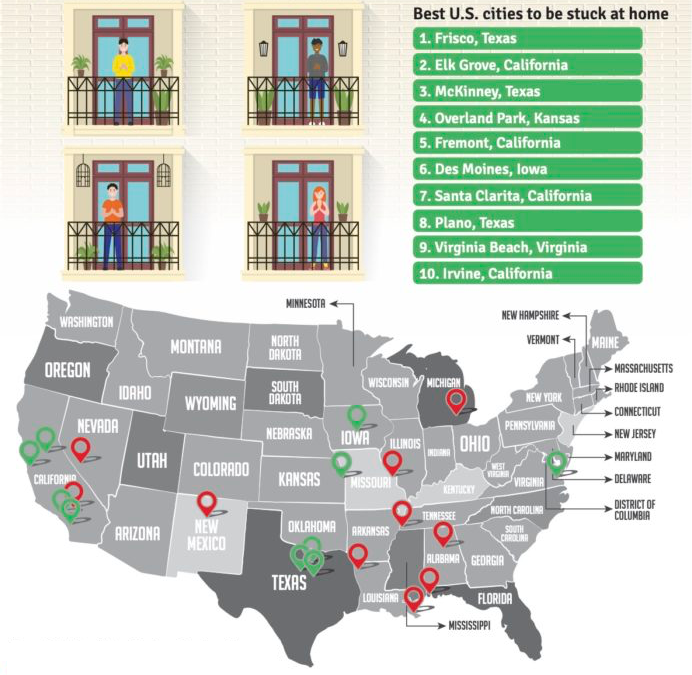 Frisco tops the list of America's Best Stay at Home Cities
Why is Frisco number one, you may ask? This fast-growing suburb of Dallas-Fort Worth tops the ranking of America's Best Stay at Home Cities thanks largely to its extremely high marks for quality of life and financial security.
Frisco is quickly becoming the country's worst-kept secret. It's been the fastest-growing large U.S. city from 2010 to 2019. You can credit Money.com, which ranked Frisco the best place to live in the U.S. In 2019. SmartAsset.com also gets credit for declaring Frisco the second safest city in the country.
While Frisco grabbed the No. 1 spot, two of its Dallas-Fort Worth neighbors — McKinney at No. 3 and Plano at No. 8 — also finished in the top 10.
Four California cities also landed on the list of America's Best Stay at Home Cities.
In case you're wondering what are America's 10 Worst Stay at Home Cities, the Lawnstarter experts rated them as well, but since we like to focus on the positive here at ReallyRather, you'll just have to go there to see them. (Spoiler alert: Detroit MI is at the bottom, and several surprising southern cities are next).
What's Lawnstarter got to do with it?
You also may be wondering why Lawnstarters took the time to check all this out. In their words:
"Since we're all about the outdoors here at LawnStarter, we recommend gardening as one method of relieving pandemic stress. GardenGate magazine touts the benefits of gardening.
Improves your mental health
Boosts your immune system
Offers a way to get exercise
Contributes to healthier eating
Whether it's a few plants in the windowsill, containers on a deck, beds and borders in the yard or a vegetable plot, gardens big and small can reap big benefits for you and your family."
See the Five Best Cities for First Time Home Buyers here.
Who would have guessed that Texas and California were the states best represented on the list of Best Stay at Home Cities in America?