New York. San Francisco. New Orleans. Los Angeles. Las Vegas. Those are the first cities that might come to mind when you contemplate "Best Foodie City" in America. There are millions of words of copy out there on the internet with people's opinions of the best restaurant city in America, but opinions are like…noses. Everybody's got one.
Really Rather readers have demonstrated that they're all about 'best food' lists, so when ApartmentGuide.com generously offered to share with us their research on the best foodie cities in America, we said "yes please and thank you!"
Surprisingly, according to their scientific data, it's not just the biggest cities that can make the biggest claims. It's smaller cities, often overshadowed by the foodie megacities, tourist destinations and college towns, that have some of the best food scenes in the country.
To arrive at their Top 5, Apartment Guide crunched the dining-out data of every city in America with a population of more than 100,000 — 314 cities, to be exact. For each of those, they counted the total number of listed restaurants within city limits and the total number of local (non-chain) eateries, then compared those numbers to each city's total population and land area size.
From that, they calculated each city's number of restaurants per capita, restaurants per square mile and percentage of non-chain restaurants. Put 'em together and whataya got?
The 5 Top Foodie Cities in America
5. Seattle, WA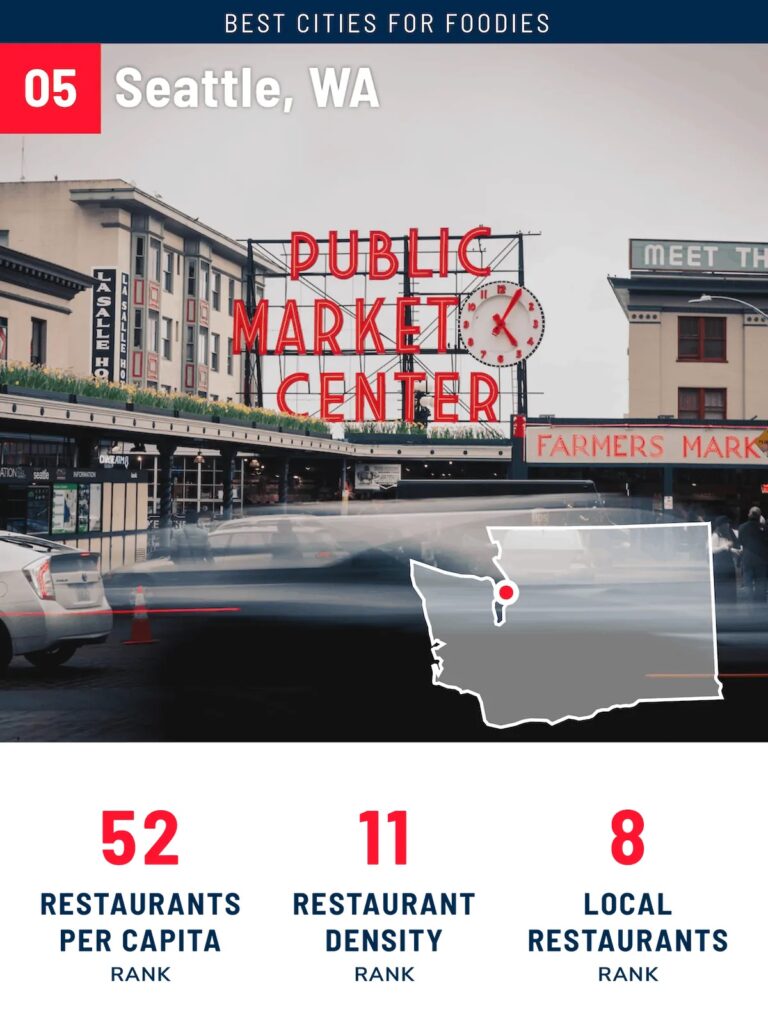 While famous as a coffee city, Seattle is also a foodie's haven. Seattle offers a delicious 28 restaurants per square mile. And of those nearly 2,400 eateries in the Emerald City, nine out of 19 of them are local, non-chain establishments.
While your first impressions of Seattle cuisine may be ham & cheese foldovers from Starbucks and fresh fish thrown around at Pike Place Market, Pacific Northwest cuisine offers much more, including meats from non-traditional sources like elk, moose and caribou, local wild mushrooms and kale that thrive in Washington's wet soil, and Seattle dogs — hotdogs smothered in cream cheese and grilled onions.
Also, much of Seattle food is highly influenced by the city's robust Asian population, where fusion foods like Korean tacos and deep-fried sushi thrive.
In addition, Seattle is booming with a slew of locally-sourced and farm- or ocean-to-table restaurants. A wide variety of options include trendy upscale Terra Plata, French-Chinese fusion Monsoon, Southern spot JuneBaby and Cafe Munir for vegetarian specialties.
But living the Rainier foodie life in Seattle doesn't come cheap. It'll run you an average of $2,534 a month for a one-bedroom apartment.
4. Rochester, NY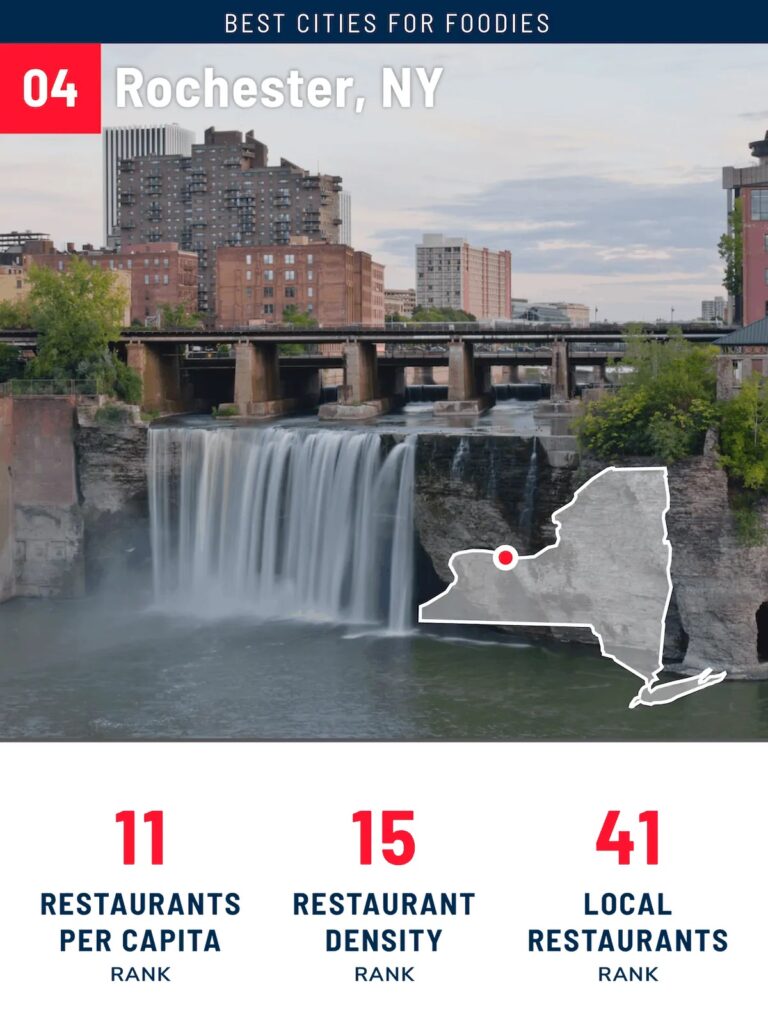 Cheap living and good eats are the names of the game in Rochester, NY. The Kodak City offers the lowest rents among the top 5 best foodie cities, with an average one-bedroom listing for a monthly rate of just $1,484. But the city on Lake Ontario is also one of America's most underrated food paradises, with a surprising 51 restaurants per 10,000 capita.
Rochester offers up some of the best dishes from around the state, including beef on weck and wings (Buffalo), tomato pie (Utica), salt potatoes (Syracuse) and one of Upstate's iconic Dinosaur Bar-B-Que's four locations. But what stands out in Rochester cuisine annals is local favorite the garbage plate.
A garbage plate, for the uninitiated, is everything a hearty, hard-working Western New Yorker would want in one dish: one or an assortment of meats including hamburger, Italian sausage, steak, chicken or uncured, unsmoked hotdogs called hots (or occasionally a grilled cheese, fish or eggs) atop a base of French fries, home fries, baked beans and macaroni salad. The entire dish is then often smothered with onions, mustard and Rochester hot sauce, a greasy, spicy sauce with bits of meat and served with sliced white bread and butter.
Authentic Rochester garbage plates are served in a plethora of styles at local joints like Nick Tahou Hots (the dish's originator), Dogtown, Steve T. Hots & Potatoes and Mark's Texas Hots. Looking for something different? Check out vegan spot The Red Fern, Pelican's Nest, artsy hip Good Luck Restaurant or Magnolia's Deli & Café, a favorite of President Obama.
3. Pittsburgh, PA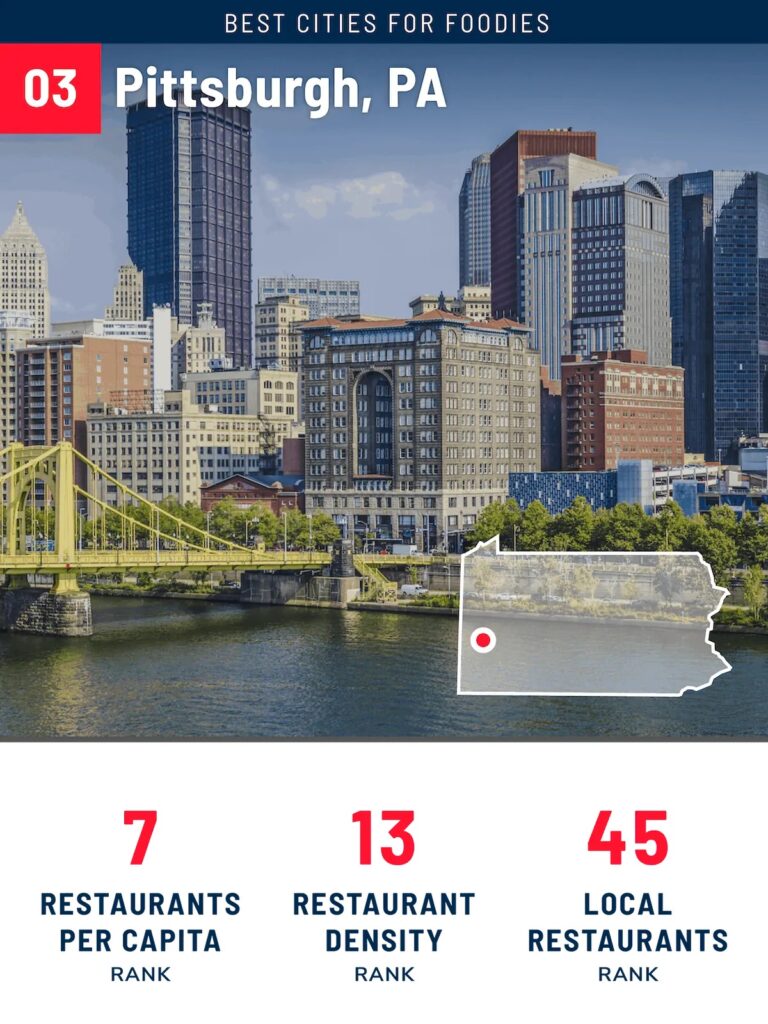 Pittsburgh? Yes, Pittsburgh. Long gone are the days of only steel mills, coal mines and smoky air. Today's Pittsburgh is a modern, shining business and tech hub, alive with culture, music, sports bars and a growing foodie culture.
The 'Burgh is a unique mix of East Coast and Midwest, busy coastal and slower Great Lakes. And its cuisine represents that mix. Its biggest national food lexicon contribution is putting French fries right on a sandwich, as popularized at Pittsburgh's iconic Primanti Brothers. But its Midwest food pedigree emphasizes the city's traditional German, Polish and Eastern European influences, with local favorites leaning heavily on pierogis, cabbage rolls, kielbasa and chipped ham.
And there is more sophisticated food across bridges and tunnels and among the hills and three rivers at places like Teutonia Männerchor, Dish Osteria and Wholey's. Experience a very non-lunch pail meal at spots like Gaucho Parrilla Argentina, savory fresh Pie for Breakfast or Carmi Soul Food.
Despite residing in the same state as East Coast Philadelphia, Pittsburgh is pure workaday Midwest. Rental prices reflect more Middle America than coastal. A one-bedroom apartment leases for an average of just $1,566 a month.
2. Berkeley, CA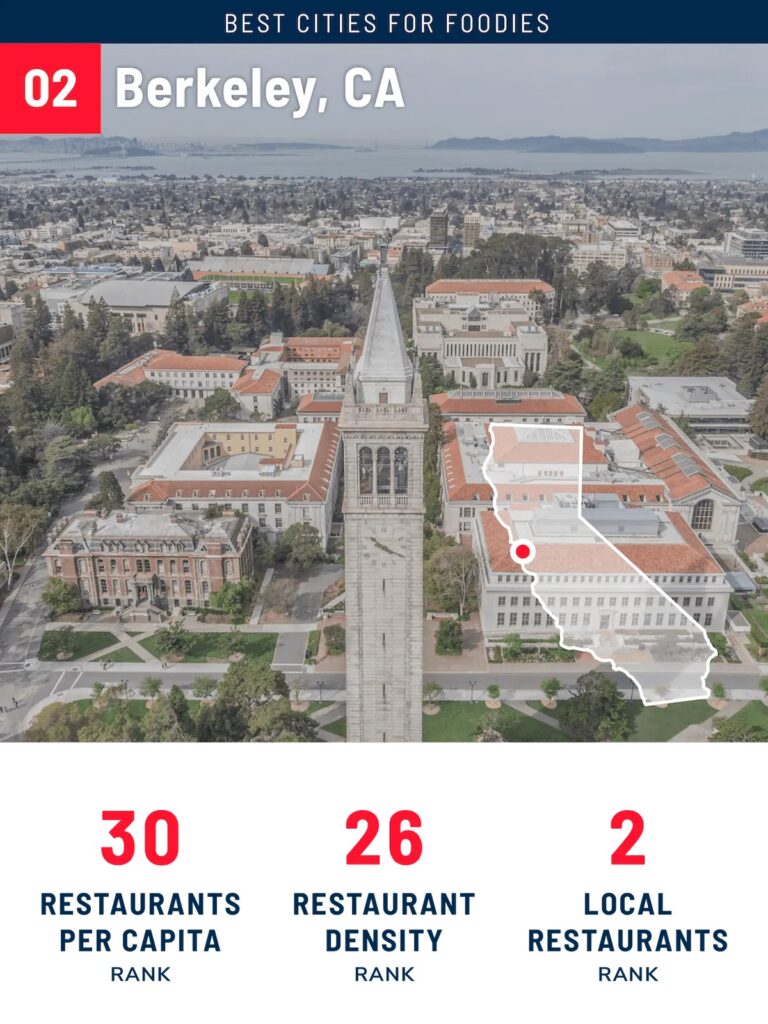 Berkeley, CA, is known to most for three things: The University of California at Berkeley, a long history of social activism and as the epicenter of educated hippie culture. It's long been a city with a populous known to be free-thinkers and ethical eaters. So, it's no wonder that this Bay Area college town is the best foodie city on the West Coast.
This burg is big on cuisine that's farm-to-table, organic and locally sourced. That's what gives it a ranking of No. 2 in the nation overall but also is the second-ranked city for non-chain restaurants. In a city of just more than 120,000, there are just 31 chain eateries.
While Berkeley may be famous for its coffee (and home to the original Peet's Coffee), it's also a hotspot for the best Northern California cuisine. The vibe is what's known as "chef-driven," menus created and curated meticulously by some of the finest chefs and chef-owners utilizing new techniques and new foods, often low in saturated fat and heavy on fresh fruits and vegetables, lean beef and chicken and fresh-caught seafood. The chef-driven California movement borrows heavily from Asian (particularly Japanese) and Mexican cuisines.
It was Berkeley restaurant pioneer Alice Waters who founded Chez Panisse, an iconic eatery north of Downtown, in 1971 who is credited with helping to create and popularize California cuisine — was Water's establishment where now world-famous California-style pizza was invented.
Today you can find some of the best California pizza anywhere at Chez Panisse, along with spots like The Cheeseboard Pizza, Gioia Pizzeria and Lucia's. And for the best in locally-sourced, check out quaint café La Note, hipster spot Gather and vegan favorite The Butcher's Son.
Berkeley might be a college town, but rent prices are not for those on a student budget. A one-bedroom rents for an average of $2,285 monthly
1. Miami, FL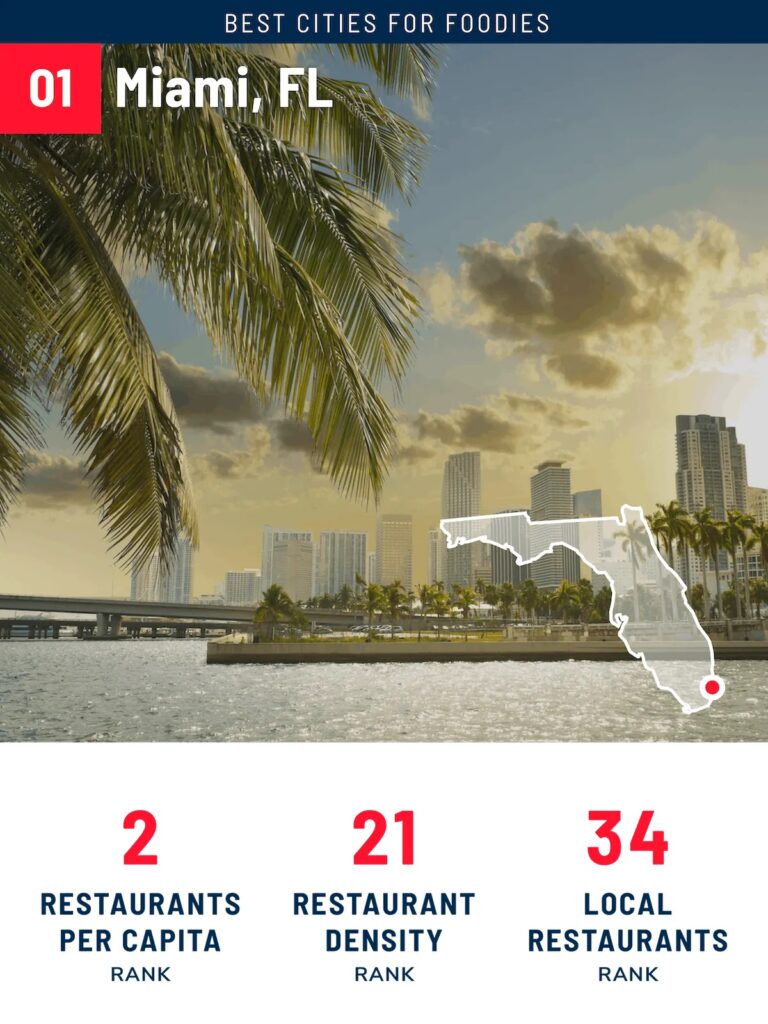 Miami has both the most chain restaurants and non-chain restaurants among the top 5. A paradoxical city, a tourist mecca still full of real locals, Miami is — according to the data — the best foodie city in America.
Miami is most well-known for its booming Cuban cuisine scene, with local joints serving authentic Cuban food across the city. On nearly every block in Miami, you can find a restaurant serving fresh, meaty Cubano sandwiches — a ham, pork and Swiss panini laced with pickles and mustard — medianoches and croquetas.
As well, many double as cafecito cafés offering up the city's signature Cuban coffee specialty, a sweetened espresso shot with natural brown sugar whipped into a creamy foam often for under a buck.
Of course, Miami is more than just Cuban food. The diverse city offers up a variety of "Floribbean" cuisine, combining Southern, Asian, Hispanic and Caribbean influences, as well as ceviche and a plethora of fresh seafood restaurants and top steakhouses. Not to be outdone, Miami is also home to the corporate offices of national chains Burger King and Benihana.
Some of the best places to dine in Miami include the Ms. Cheezious grilled cheese and mac and cheese shop, Cajun-Vietnamese fusion Phuc Yea, CRUST pizza and La Carreta, authentic Cuban food with multiple locations including 8th Street, Kendall and Miramar.
To live the beach life in South Florida, expect to pay some elevated rental prices. An average one-bedroom unit runs for $2,535 a month.
But wait…there's more! Find out the 50 Top Cities for Foodies in America and other great information on ApartmentGuide.com.
You'll be stunned to find that this list of 5 top foodie cities in America does not contain the usual suspects. Hint: Rochester and Pittsburgh are on the list. See what other cities made the cut.