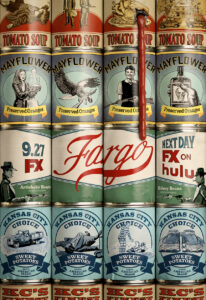 If you haven't seen the television series Fargo, with ties to the classic Coen Brothers movie of the same name, are you ever in for a thrill! We at ReallyRather are big fans, and apparently so are a lot of others, as the quirky limited series is an Emmy®, Golden Globe®, AFI, Peabody and TCA Award winner.
Created and often directed by Noah Hawley, Fargo Season 4 was originally slated to premiere Spring 2020, but the Coronavirus pandemic halted production until late August. Now we've been given an ETA, as well as some other juicy tidbits about the upcoming season. Take a look:
5 Exciting Facts About FARGO Season 4
It will premiere with

 

two episodes

 

directed by Hawley on Sunday, September 27 at 10 p.m. ET/PT on FX, and the next day on FX on Hulu. The 11-episode season will feature a new episode each subsequent week.
It stars Chris Rock, and we'll also see favorites including Jason Schwartzman, Salvatore Esposito, Rodney Jones, Ben Whishaw, Timothy Olyphant, Jessie Buckley and Jeremy Harris.
It takes place in 1950's Kansas City, where two criminal syndicates fighting for a piece of the American dream have struck an uneasy peace. To cement their truce, Loy Cannon (Rock), the head of the African American crime family, trades his youngest son to his enemy, the head of the Italian mafia. In return, the Italian mafia boss surrenders his youngest son to Cannon.
There are fascinating subplots intertwined with this tale of immigration, assimilation and power, among them are stories of a precocious 16-year-old biracial daughter, a U.S. Marshal, a Mormon lawman, a Kansas City cop known for his compulsive tics, and a nurse who cannot abide others' suffering.
Last but not least, the plot is actually based on a true crime story, and some of the characters really existed!
Here's the promised killer trailer:
Now catch 5 more TV shows we can't wait to see.
The eccentric and intriguing anthology series, inspired by the work of the Coen Brothers, finally gets a premiere date. Behold Fargo Season 4!