Who knew that after a workout, your skin would be so vulnerable? ABC's Extreme Weight Loss trainer and host Heidi Powell did.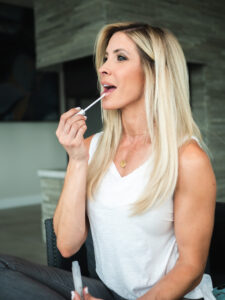 "After a workout, your pores are open and exposed to pollution and bacteria," she says. Ewwww! We had no idea. But it makes sense. All the product you likely slathered on sometime pre-workout has probably been sweated or wiped off by the time you're through.
So Really Rather asked Heidi what steps we need to take post-workout, to make sure our skin glows like hers does. And we also requested that she keep those steps simple, because who wants to spend even more time primping and prepping and priming? She very happily and helpfully obliged us.
Heidi Powell's 5  Easy Post-Workout Skin Care Tips
1. Use an all-in-one post-workout spray: This is my GO-TO! With my hectic schedule, it's nearly impossible to implement my entire skincare routine right after my workout. I like the Athia Post Workout Spray to solve exactly this problem. I often go straight to the office or run errands on my way home after my workout. The Post Workout Spray calms my inflamed face, protects my open pores and infuses my skin with good bacteria until I'm able to wash my face.
2. Drink water: Post-workout hydration is crucial, but did you know it's key for skin health as well? The skin is our body's largest organ and is made up of water. Without water, it will not function properly. Staying hydrated is key in overall skin health. A simple rule of thumb: Drink half your body weight in ounces each day, and drink an extra 8 oz of water for every 15 minutes of exercise you do.
3. Don't skip the lips: I recently wrote an entire blog post explaining the importance of lip care and our aging lips. Our lips are one of the first areas to show signs of aging and are often neglected…especially after an intense workout where lips are often dried from heavy breathing. Don't let your lips lie about your actual age! A moisturizing lip gloss will work wonders.
4. Cleanse: As mentioned, exercise leaves our pores open and skin vulnerable. If you have the time, use a gentle cleanser that will cleanse deep into your pores without drying out your face. Try to wash your face as soon as you can after your workout.
5. Reapply sunscreen: Sun is our skin's worst enemy in the aging process – wrinkles, sun spots, you name it! Proper protection throughout the day is key. I particularly like the Athia Daily Defense Matte Moisturizer, which has an SPF 25 to protect against UVA and UVB rays. It also doesn't leave behind any greasy or white residue.
Your body isn't the only thing that takes a beating when you exercise. Extreme Weight Loss trainer and host Heidi Powell gives us 5 easy post-workout skin care tips.