Dawn Harper Nelson may have Olympic gold and silver medals for the 100 meter hurdles, and she may be gunning for more in Japan in 2021. But she still puts her sweats on just like the rest of us: one leg at a time.
She's highly relatable to all us girls, since she too is juggling a family and a job — granted her job is a bit more demanding than most of ours, as it involves grueling pre-Olympic workouts overseen by her coach/husband/childhood sweetheart Alonzo Nelson. And she does this while raising her daughter Harper, a buoyant 18-month-old.
Harper Nelson has been a track phenom ever since high school in her native East St. Louis, IL. After establishing herself as a teenage superstar, she was recruited to the esteemed women's track team at UCLA where she excelled the classroom as well, earning a Bachelor of Science in Psychology while setting track records and winning international championships.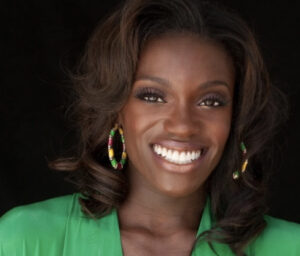 In 2008 Harper Nelson reached every athlete's consummate goal by winning an Olympic Gold medal at the Beijing Olympics. She added an Olympic Silver medal in 2012 in London. Her domination of the 100 meter hurdles continued through 2015, when she ranked number one in the world.
An injury kept her from competing in her third Olympics in 2016, but she attended anyway, providing commentary. After that, she continued dominating world track competition until, in 2018, she announced her retirement from track.
Later that year, she revealed that she was about to fulfill one of her other great life goals: becoming a mom. During her pregnancy, Harper Nelson continually asked herself, "Does one dream have to end for another to begin?" She answered her own question in November of 2019 — she would take on the daunting task of raising baby Harper while training for her third Olympics.
That's where we find her today, juggling her time between being a world class athlete, a wife and mother.
So if her morning routine is strong enough to get her through all that, just think of what it can do for the rest of us! Check out:
Dawn Harper Nelson's 5 Winning Tips for Starting the Day on the Right Foot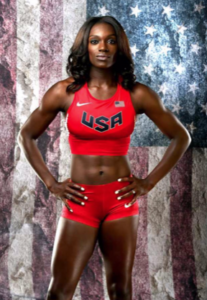 1. Start the morning before you go to bed at night: Write out your morning schedule the night before. This will help you sleep easier and keep you on schedule. Allow yourself a five minute window between each entry. Example: "Get dressed: 8-8:20" (make that 8-8:25). Worst case scenario, you're ready a little early.
2. Have a morning devotional: I read my morning devotional (often a Bible app on the mobile phone) first thing when I wake up, and I'm actually still in bed. It's a good way to prepare mentally and spiritually for the day ahead. I feel it is vital to calm and prepare myself before I get on social media. How many times do we scroll through our phones and find something that's a trigger? Sometimes it makes you sad, angry or just simply confused. This helps me take in what comes with a mind of hopefulness.
3. Get up and stretch: Stepping out of bed for me means going straight into some simple yoga. I do a quick pratapana and stretch of the hamstrings. The day before more than likely was very active, so a quick stretch is essential. But you don't have to be an Olympian to have an active day. Your body needs to be treated gently the next morning no matter what you do.
4. Treat yourself to CBD Isolate drops: BioFit360 CBD Isolate drops have become a vital part of my self care routine in the morning. As an athlete, I can't take any vitamins or supplements that might interfere with blood testing, These drops won't. But the day ahead is guaranteed to be busy and this helps me approach it with calmness. Orange Cream is my favorite flavor. One dropper and I'm off!
5. Get yourself ready first: If you hear nothing else hear this, DO NOT feel guilty if you sense your child is awake, and you finish getting yourself dressed before going to the little one. Being alone and awake helps children learn to self soothe and cope. Getting dressed can be so much easier when you have two free hands and no one pulling on your leg. It makes you feel vibrant again! One caveat, though — do not put on the shirt you're planning on wearing that day. Somehow, your child will find a way to get something on it.
Find out more about Dawn Harper Nelson at DawnHarperNelson.com.
Even though you're not an Olympic Athlete, Dawn Harper Nelson's 5 tips for starting the day will get you up and out like a champ.