You loved our feature on how famous directors might design you professional workspace, so we couldn't pass up the opportunity to give you some ideas on what your favorite directors might do to you home office space.
After all, with surges and uncertainty, many companies have confirmed that they will continue to ask their team to work from home indefinitely.
In light of that, many of us find that for now, the water cooler's been replaced by a dripping kitchen tap, your dining room table is your desk, and the office gossip is your toddler. If this work from home situation is going to last, something must be done, right?
How about going in a design direction that's chic, stylish, maybe even cinematic? The savvy team at Budget Direct decided to draw on inspiration from the unique aesthetics of  favorite film directors, and have come up with five home office renderings in the style of Sofia Coppola, Wes Andrson and some other highly-visual filmmakers. Take a peak and get inspired:
5 Fabulous Fantasies of Famous Director Designed Home Offices
1. Sofia Coppola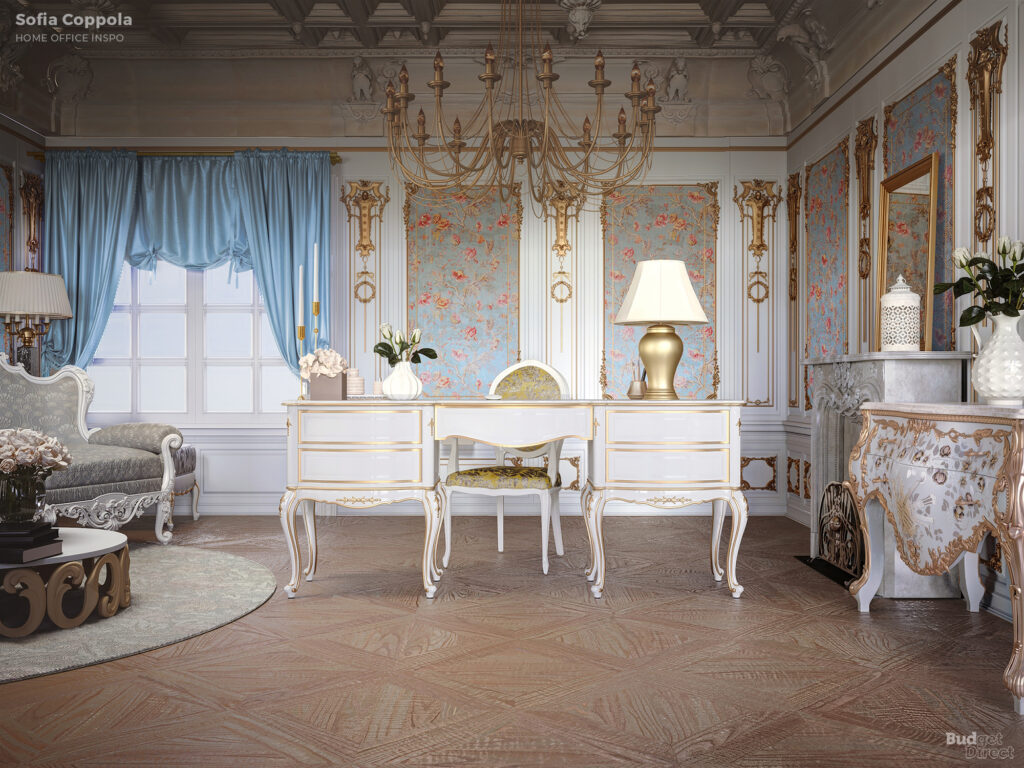 Interiors-wise, Sofia Coppola is best known for the dark, deluxe modernism of the hotel suites in Lost In Translation. But picture-for-picture, Coppola has developed a soft focus vintage look populated with pastel colours and an eye for exquisite bling.
Sure enough, Coppola's own home look is pale and fey. "My apartment is pretty calm and restrained," says the filmmaker. "I like a clean white backdrop set off by masses and masses of pink peonies." We've erred towards Coppola's professional aesthetic: a vintage dressing table desk, baroque curves, and plenty of baby blue and gold.
2. The Wachowskis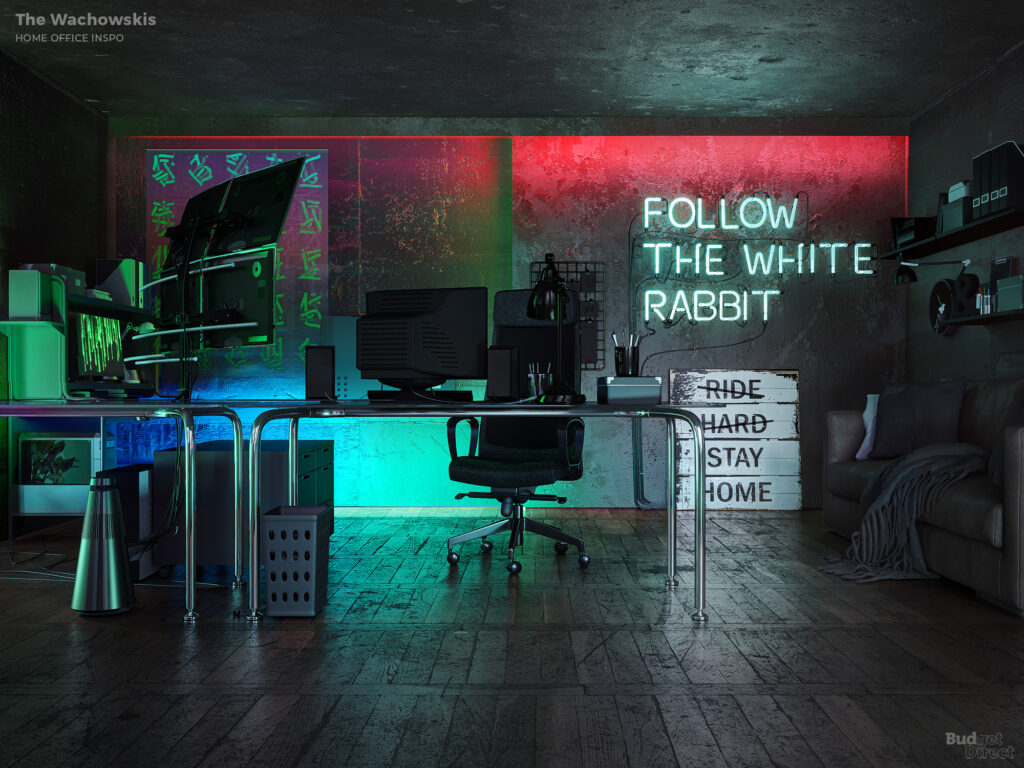 The Wachowskis shot to success and helped define our image of the 1990s with The Matrix, their second film. The movie and its sequels share a cyberpunk aesthetic that has become fun and iconic just because – as it turns out – the internet age doesn't really look like that. Well, it can if you want a Wachowskis-themed study.
Our Wachowskis office represents the collapse of everything. Spot the post-industrial fixtures and fittings, abandoned 1980s office furniture, and repurposed wood and signage. The Matrix home office makes a cool DIY project for an upcycler with an imagination.
3. David Lynch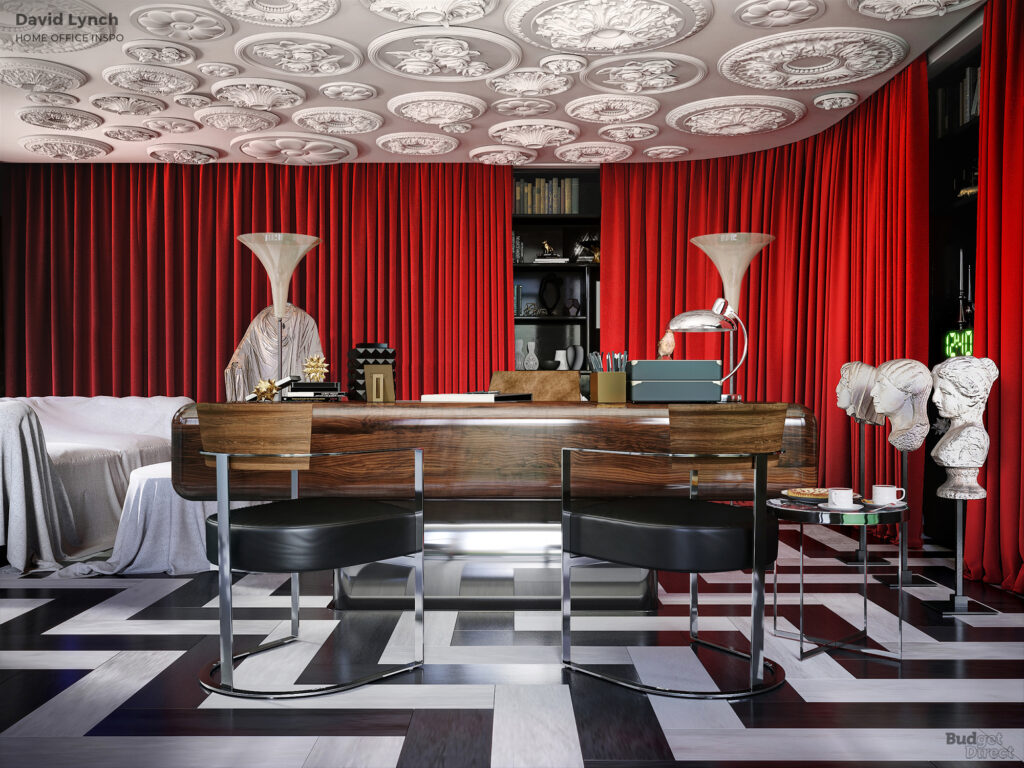 Of course, we know exactly what David Lynch's home office looks like thanks to the Twin Peaks creator's daily Weather Reports. And it sure looks Lynchian. However, if you're after something with a bit more space and colour, you're better off taking a cue from his films.
Yes, Lynch's first features were in black and white, and Dune – although a colour movie – was obsessed with black. But since Blue Velvet, the filmmaker has shown us how to make basic primary colours equally stylish and creepy. To get that extra-dimensional look, start with the Twin Peaks red room, add a little 1950s Americana, and record your voicemail greeting backwards.
4. Wes Anderson
Wes Anderson becomes less of a filmmaker and more of a designer with every film he makes. Today, the Rushmore director is the ultimate architectural filmmaker. Anderson shapes the space of his film sets with symmetry and flat composition to present his characters in a world that is part theatre stage, and part expressionist dream world.
Our Wes Anderson home office dials it back to The Royal Tenenbaums era. We've combined organic colours and curated clutter with meticulously angled furniture. The back wall says, "this is where I've been." The books and records say, "this is who I am." And that vintage desk, aimed squarely at visitors, says "looks like I'm here to stay."
5. Pedro Almodovar
"I wanted a pop-art kind of set, with pastel colours," says Spanish film director Pedro Almodovar of his 1988 breakthrough, Women on the Verge of a Nervous Breakdown. "If I'd had the money and the contacts, I would have asked David Hockney to design it." But in the three decades and 14 features since then, Almodovar's aesthetic has become unattributable to any artist but himself.
The pop art element is still there, but Almodovar's is a look both swarthy and slick, raw and pushed to the excesses of sophistication. The interior design in his latest, Pain and Glory, demonstrates the filmmaker's over-the-top philosophy: if every element sticks out, no element sticks out. For our Almodovarian home office, that means the unifying principle is "anything goes" – as long as it's fabulous.
See even more concepts of famous director designed home offices in the original feature from Budget Direct Home Insurance.
What if directors like Sofia Coppola, the Wachowskis or Pedro Almodovar created your workspace? Behold these concepts of famous director designed home offices.