It's in our DNA: buying a home is an inextricable part of the American Dream. Even the most committed renters sometimes fantasize about owning a dream home, if and when their preverbal ship comes in.
But this year, perhaps more than any other in the past 60 years or so, Americans may be conflicted about whether it's a good time to purchase a first home. While many people have been financially hurt by the COVID-19 pandemic, mortgage interest rates have also hit record lows.
There's an old adage in the housing market, no matter what the economy is doing, and that's "the three most important considerations in real estate are location, location, location." Where a home is located is just as important, if not more so, than the features of the home itself. You can always change the features of a home, but your location is a single, all-important choice.
There's an upside to that. These days, with so many people working remotely, your choice of location is more flexible than it's ever been. Many people are now finding the freedom to move to a city far distant from an employer's central hub or office.
With that in mind, WalletHub compared 300 cities of varying sizes across 26 key indicators of market attractiveness, affordability and quality of life, to find out the top cities for first time home buyers. Their data set ranges from cost of living to real estate taxes to property crime rate.
Tampa, FL came out on top of the list of large cities, Henderson, NV (near Los Vegas) was the best rated midsize city, and for small towns, Thornton, CO was finished first. See which cities ranked next among the top 5 cities for first time home buyers, and note that Nevada and Colorado were exceptionally well represented.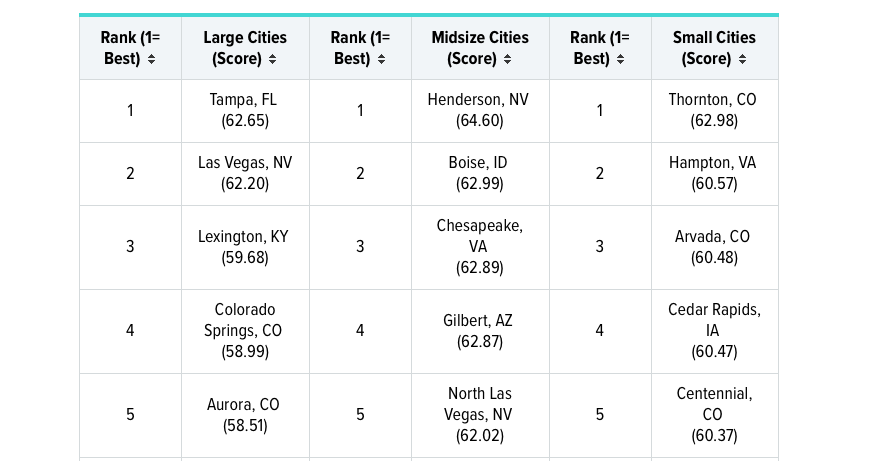 Although we're stopping at the top five, Wallethub sure didn't. They've ranked 300 US cities, small, medium and large. Check out the rest of their findings, along with insight from a panel of experts and a full description of their methodology, here. For a quick peek at the top cities for first time home buyers, watch the video below:
Find out which are the Best Stay at Home Cities in America.
Personal finance website WalletHub ranks 300 US cities in terms of livability and affordability to find which are the best cities for first time home buyers.