Conventional wisdom says that homemade anything is probably better than store-bought. If you can pull it off, as anyone who has tried to make cheese or a wedding cake can tell you.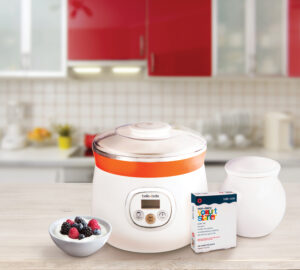 But these days, home yogurt makers are practically foolproof. With models like the YoMagic Automatic Yogurt Maker all you have to do is pour in the milk of your choice, mix in the starter, set the timer, flip a switch then chill. (See video below) You don't even have to worry about washing all those little jars any more. Even the most awkward kitchen klutz can whip up something delicious.
And just in case ease and convenience aren't enough, here are:
5 Great Reasons to Switch to Homemade Yogurt
1. No added, unwanted ingredients — when you make your own yogurt, you don't have to worry about added sugar, preservatives, artificial flavoring or thickeners (unless you want to).
2. Use your milk of choice — coconut, almond, soy, cow, goat or whatever, you don't have to spend time in the store searching for yogurt made with your specific milk preference, and you can bet it will be less expensive.
3. Save money — Homemade yogurt usually comes out at half the price (or less) than the store-bought variety.
4. Easily add healthy probiotics to your diet — since you'll always have yogurt on hand, you'll be able to use it in baked goods, marinades for meat and poultry, soups, sauces and as a healthy replacement for sour cream.
5. Help save the environment — Unlike plastic water bottles, most yogurt containers are actually made of polypropylene or #5 plastics, which many neighborhood recycling programs don't accept. By making your own yogurt, you could be helping the environment by limiting the use of #5 plastic containers, which average about seven million tons per year.
A home yogurt maker can range in price from about $20 to as much as $130 for a Cuisinart. The YoMagic Automatic Yogurt Maker that we're so in love with goes for $49.95 on Amazon.
You'll wonder why you've been buying yogurt at the store all this time when you read these 5 reasons to switch to homemade yogurt.