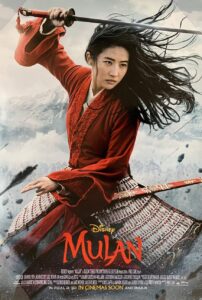 Assuming you've already subscribed to Disney+ to see Hamilton, you now have the opportunity to spend an additional $30 for the right to watch Disney's new live action Mulan in the privacy of your own home. Some think that's an exorbitant sum. Others, when comparing it to what would cost to take the entire fam out to the theater, consider it a steal.
In her official review, Really Rather film critic and Editor in Chief Lisa Johnson Mandell says it may not be the best of Disney's live action films based on an animated classic, but there are plenty of reasons why it's well worth $30. Here's why:
5 Reasons Why You'll Want to Spend $30 to Watch MULAN at Home
It has an excellent message: Going beyond the basic girl power themes found in most of the other Disney Princess films (although there is a liberal helping of the 'never underestimate a woman' vibe) Mulan also focuses on making the effort to figure out who you really are, and then proudly letting your flag fly. It's all about authenticity, which is a universal message that can be appreciated by everyone.
It's technically luscious: Brilliantly colorful, there's something beautiful to see in every minute of the film. The production design is stunning, with sets and locations that dazzle. In addition, the costumes are absolutely gorgeous. Expect to see a wave of Asian-inspired fashions out in time for Christmas.
It has a refreshing, international cast: You'll love newcomer Yifei Liu in the title role, as well as other familiar favorites like Jason Scott Lee, who plays a dark Rouran warrior out for revenge; a shape-shifting witch with powers not unlike Mulan's, played by one of our personal favorites, Gong Li; Jet Li playing the Emperor; and the delightful Crystal Rao as the young Mulan.
It's a perfect family activity: There's something in Mulan for everyone, adults and children, male and female, all can enjoy it together. And, as previously mentioned, it's a relative bargain, because in normal times, it's hard for one parent and child to get in and out of a theater for under $30, with the expense of tickets, popcorn, drinks and candy, not to mention the corresponding souvenirs. It's the perfect opportunity to gather the friends and family around as big a screen as possible.
It's the closest most kids will get to a blockbuster experience these days, and it's repeatable: I'm just thankful to Disney for releasing Mulan as a streamer, and not holding it back until it can get the big screen audience it deserves. Plus, the lovely thing about a one time fee for Mulan is that that $30 will last as long as you subscribe to Disney+. The kids can enjoy it as many times as they like, over and over and over again. And, I'll probably get in trouble for this, but since it's not a musical, you will not have to listen to the songs ad nauseam.
It may not be one of Disney's greatest live action remakes of an animated classic, but there are plenty of reasons to watch Mulan at home.