We freely admit that we at ReallyRather are big fans of Property Brothers Drew and Jonathan Scott. We've interviewed them, seen some of the houses they've redone, and don't tell our S.O.'s but we have the slightest crush on them. Who doesn't?
So we were more than a bit titillated hearing that the newest season of Brother vs Brother, premiering Wednesday, Sept. 9, at 9 p.m. ET/PT, will take place right here in our own Los Angeles backyard, which they're calling Twinseltown for the occasion. We'll let them get away with that with only a slight eye roll.
Budgets in L.A. must be huge, so watch for more drama and gorgeous interiors than ever as the Bros engage in an all-out property and renovation battle, a six-week competition to determine which renovated home will earn the highest net profit.
Here's all we we know about the season so far:
1. It happens in swanky Hancock Park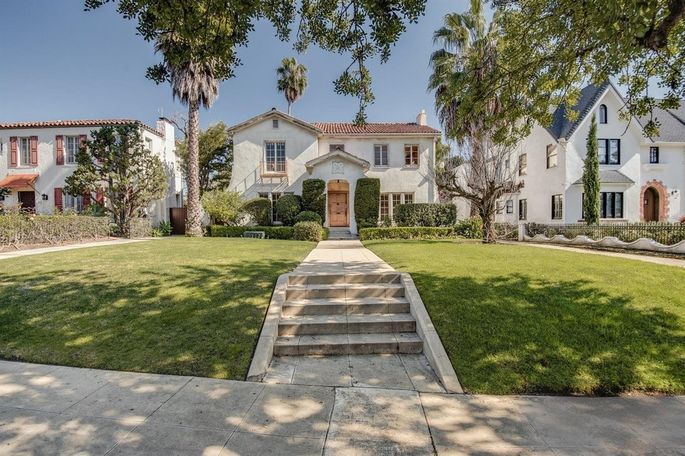 Hancock Park is one of L.A.'s most historic, star-filled neighborhoods, and has been a favorite dwelling place of celebs including Antonio Banderas, Milla Jovovich, Mindy Kaling, Nat King Cole, and even Drew and his bride Linda—whose honeymoon house was the subject of a renovation limited series, and is likely right next door to one of their projects. The neighborhood provides special challenges because there is only so much the city will allow them to do to the exterior of these classic historical homes.
2. Guest judges include HGTV heavyweights
During the season, HGTV stars Breegan Jane (Extreme Makeover: Home Edition), Maureen McCormick (Frozen in Time), Jasmine Roth (Help! I Wrecked My House), Orlando Soria (Build Me Up), and Dan Vickery (Frozen in Time) will decide which Brother wins each weekly match.
3. There are outrageous prizes and humiliations for the winners and losers
The weekly challenge loser in the ferocious flipping competition must face a host of humiliations, including being the subject of an embarrassing blooper reel on Entertainment Tonight and hunting down the winner's favorite treats and souvenirs at Disneyland. The challenge winner will get such special rewards as a starring role in a superhero photo shoot, a heart-pounding stuntman experience or a dinosaur dig at the famed La Brea Tar Pits.
4. It's all for charity
Proceeds from the Brother vs. Brother home sales will go to Turn Up! Fight Hunger which works with No Kid Hungry to solve childhood hunger. This will result in up to 100,000 meals donated.
5. You can watch and get extras on multiple platforms
Beginning Wednesday, Sept 9, HGTV's digital platforms including Facebook, IGTV, and HGTV.com also will feature additional content of the challenge rewards featured in each episode in the new digital series Brother vs Brother: Challenges Uncut. Each episode will be available following the linear premiere.
Fans can stay connected with Brother vs Brother on HGTV's digital platforms and can also visit HGTV.com/brother-vs-brother for exclusive show content. In addition they can follow @HGTV and #BroVsBro on Facebook, Twitter and Instagram for additional show content and updates and can follow Drew @mrdrewscott (Instagram, Twitter) and Jonathan @mrsilverscott (Instagram, Twitter).
Property Brothers Drew and Jonathan Scott are about to face off in LaLa Land on Brother vs Brother. Get the inside scoop.