Redecorating the Oval Office isn't just a statement of the president's taste. It's also a statement of control and power. This is the venue where the president meets international dignitaries and greets the cameras shouldn't look like the predecessor still owns the turf.
It was William Howard Taft, the 27th president of the United States, who first moved the seat of power into what would become the Oval Office in 1909. American Home Shield® has helped ReallyRather take a look back at the evolution of the what has become the most illustrious room in the nation's most famous house. We suppose you could call it the First Home Office.
AHS researched the changes made by each administration, and created 3D renderings of then all.
It's interesting to note that redecorating didn't become a thing at first, with six presidents, William Howard Taft through Franklin D. Roosevelt, 1909—1945 basically holding fast. Although the location in the White House was switched, only minor changes were made to the same, mossy Oval Office decor and suite of furniture.
Harry S. Truman was the first to change the Oval Office decor considerably, going towards mint and bluish greens, and adding a sculptured pile Presidential Seal to the carpet for the first time.
Dwight D. Eisenhower stuck with the same motif, which wasn't altered much until First Lady Jackie Kennedy embarked on redecoration for her husband. She famously invited French interior designer Stéphane Boudin to renovate and restore White House interiors.
From then on, there was a pretty radical change with every administration, except for Gerald Ford and Jimmy Carter, who basically just rearranged the furniture.
Since we at Really Rather try to do everything in fives, we're now skipping ahead to:
A Comparison of US Presidents' Oval Offices Over the Last 5 Administrations
Bill Clinton (1993-2001)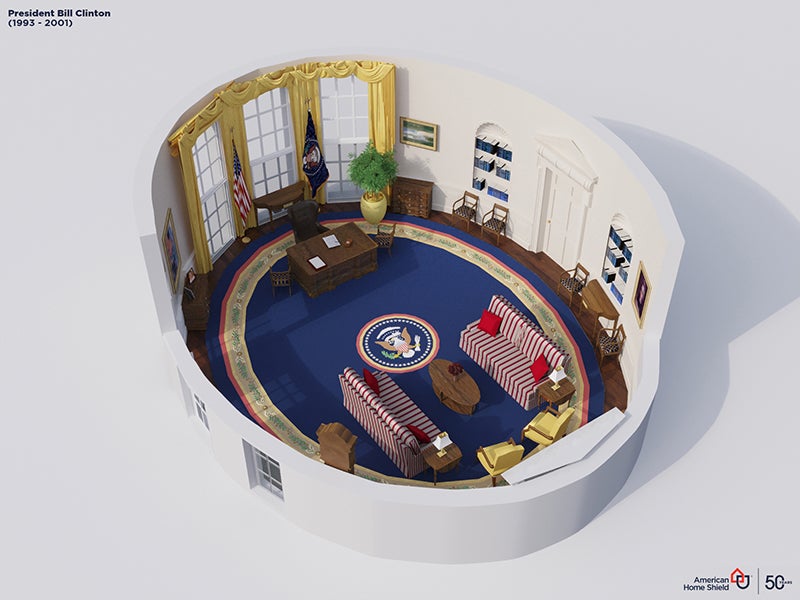 Kaki Hockersmith decorated Bill Clinton's office in a classic red white and blue scheme with a refreshing pop. Hockersmith's eye-catching blue seal rug has recently been brought back into the Oval Office for the Biden administration.
George W. Bush (2001-2009)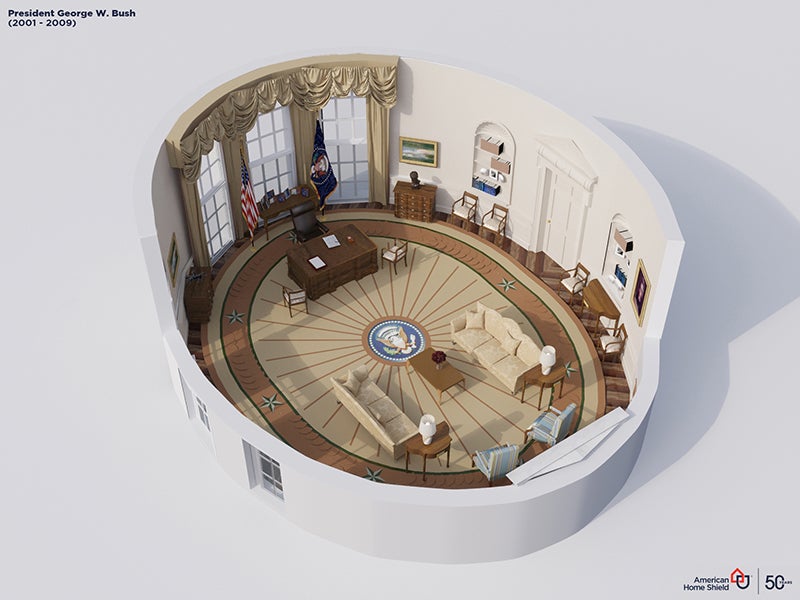 "W" chose a sunbeam-themed rug, which designer Ken Blasingame paired with antique gold drapes for his new Oval Office decor. The rug itself was designed by First Lady Laura Bush, and was intended to evoke the optimism of sunrise.
Barack Obama (2009-2017)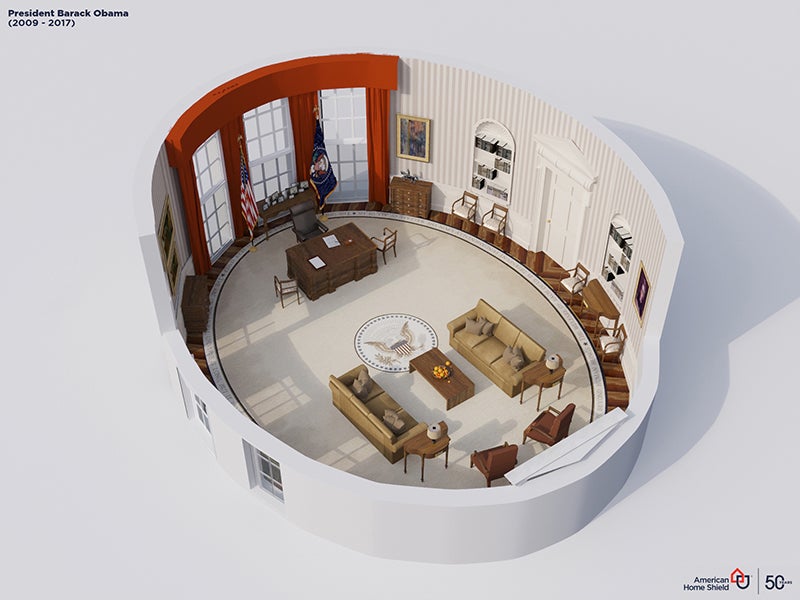 President Obama was the first to choose patterned walls, opting for golden tan and light-beige striped wallpaper. The room's cool fawn-colored velvet sofas and neutral tones reflected the fact that Obama genuinely used the office to sit down and work. "Someone said that Bush's looked like the kind of room you'd have tea in, and that it was very genteel, but that Obama's looked like a place you'd have a quick espresso and get down to work," according to Obama's designer, Michael S. Smith.
Donald Trump (2017-2021)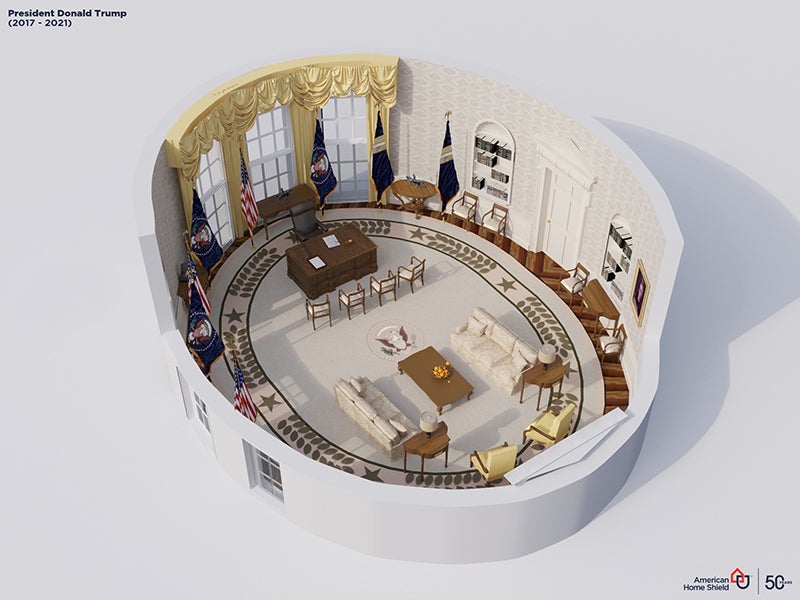 Trump's choice of drapes turned out to be somewhat ironic. The gold curtains he found in storage were originally chosen by First Lady Hillary Clinton for husband Bill's Oval Office. Trump also replaced Obama's wallpaper, opting for a motif of sea scrolls, leaves, and floral medallions, intended to evoke the building's sense of history.
Joe Biden (2021-)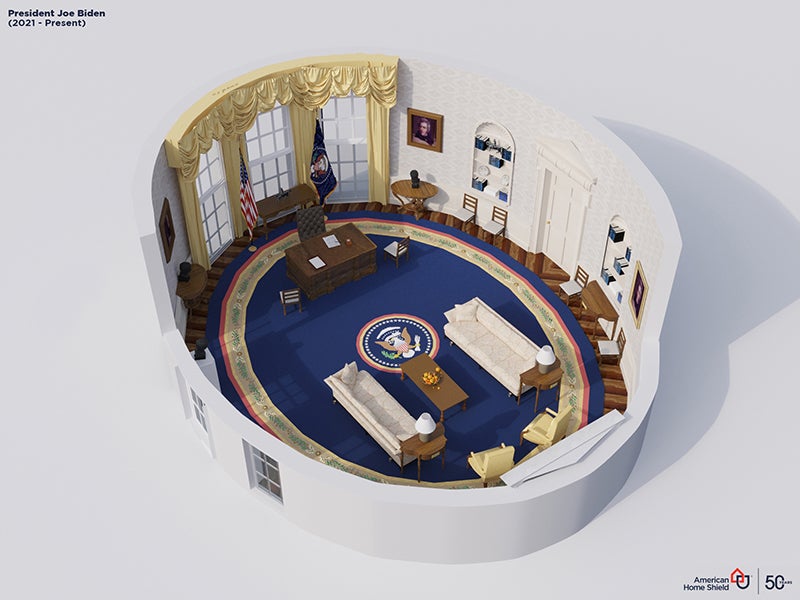 President Biden opted to keep the Clinton drapes in the windows and has brought back Clinton's navy rug, too. New additions include a 3.9-billion-year-old moon rock.
See the rest of the comparison of the US Presidents' Oval Offices and get lots more information on the subject at AmericanHomeShield.
This fascinating comparison of US Presidents' Oval Offices shows the unique evolution of presidential decor. You won't believe their taste!