You may not realize it, but there is doubtless a Diane Warren song on the soundtrack of your life. Over her 32 year career, she's written hits for artists including Celine Dion, Whitney Houston, Britney Spears, Christina Aguilera, Beyoncé, Elton John, Cher, Miguel, Jennifer Hudson, Darius Rucker, Justin Bieber, Mariah Carey, LeAnn Rimes, Lady Gaga…and that's just to name a few.
Warren has garnered 15 Grammy nominations and 11 Oscar noms, for her extraordinary work, receiving unparalleled kudos for the iconic songs she pens for films. This streak could well be carried on this year, as there's already receiving Oscar buzz for her latest song, "Free" sung by Charlie Puth in the Disney+ hit The One and Only Ivan.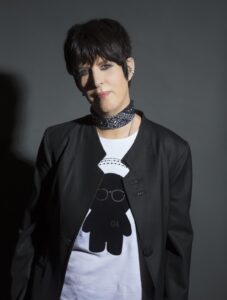 Her music is famous for enhancing the impact, emotion and memorability of the movies they're featured in. Can you ever hear the mega hit "I Don't Want to Miss a Thing," without thinking of the film Armaggedon?
ReallyRather thought it would be fun and fascinating to find out which of the myriad hits she's written for movies are her personal favorites. She was kind enough to take the time out to tell us, and in sharing, told us, "These are not in order, but all are sincerely special to me in different ways. The beauty of these songs is that have all transcended the movies they were in."
She continued, "These songs have active lives as classics, protest songs, anthems, weddings, funerals, karaoke and more."
We couldn't agree more, so without further ado here are…
Diane Warren's Top 5 Songs From Movies
"Free" from The One And Only Ivan: "Free" is one of my favorite songs I've ever written, because it's about animals. Along with music, animal advocacy is my true passion.  I feel like it will be the Born Free of generations to come. The movie is truly poignant and beautiful.  I absolutely love this song.
"Because You Loved Me" from Up Close and Personal: This song was a whole different level of songwriting for me, as it was deeply 'personal' to me because I got to chance to thank my Dad for believing in my music. Even though it was written for Michelle Pfeiffer and Robert Redford as sort of a memorial for their relationship in the film; it has become one of the top five wedding songs of all time. It's also played at funerals too… so there you go!
"Stand Up For Something" from Marshall: I wrote this specially for Thurgood Marshall and it's now become a modern protest anthem. If someone ever stood up for something it was Chadwick Boseman (the late actor portrayed Marshall), who I got to know a bit through the campaign. He embodied dignity which he brought to the part. That dignity and his grace live on through that song — I'm grateful that I was a part of that.
"I Don't Want To Miss A Thing" from Armageddon: That song is a pop culture phenomenon. The song is a classic standard, everybody loves that song. From a song for a movie about an asteroid, it's now one of the biggest karaoke songs of the all-time. I'm so proud of that  song.
"Til It Happens To You" from The Hunting Ground: When I wrote that song I had no idea it would help ignite the Me Too Movement.  I got to know Joe Biden through the song, he embraced it from the start and then he introduced the song at the Oscars, (where Lady Gaga sang it). "Til It Happens To You" shows the power of what one song can do. The power of music to help lift up, heal and start a movement. I was honored to be the one that started that particular musical fire.
The songwriting phenom written so many hits we can't keep count, but she was kind enough to give us an official list of Diane Warren's top 5 songs from movies.