A good hair day. It's amazing how a small thing like that can make you feel happy and healthy, even when the chips are down.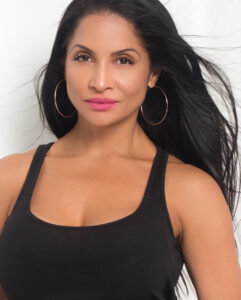 Our hair is a relatively small thing that we can have some control over, and that could be why so many of us work so hard to achieve fabulous looking hair.
Unfortunately sometimes we work a little too hard attempting to get to the "perfect look," blowing it dry, cork screwing it with a curling iron or and sizzling and pulling it with a flat iron, causing the strands to break and burn. Achieving the delicate balance between silky and singed is not an easy task.
That's where the gracious and skilled hair pro Lucy Garcia Planck comes in. She's a senior stylist at the John Barrett Salon at Bergdorf Goodman in NYC, and her own gorgeous mane serves as living proof of her vast wealth of follicular knowledge. Look and learn.
5 Healthy Hair Tips from Style Pro Lucy Garcia Planck
Start with a good shampoo. Investing in a good shampoo and conditioner can make a huge difference in keeping your hair healthy. I really like and use Milbon anti-frizz shampoo and Saco Hydrating shampoo and conditioner. Both of these lines use pure, high-quality products and are sulfate-free.
Protect your hair against the heat. In order to create great looking hairstyles we often need to use hot styling tools. Using a good heat protectant product can reduce the damage that styling tools sometimes inflict. I use Shu Uemura heat serums and creams (one for fine hair and one for thicker hair). These protect the hair from the intense heat and leave your hair looking shiny.
Turn down the heat. Although using high heat on hot styling tools can speed up the styling process, it can often lead to unnecessary hair damage. Even if your hot styling tools go up to 500 degrees, there is never a reason to use the highest setting. Using a medium heat (around 250-375 degrees) is enough heat without creating major hair damage.
Mask your locks. I love making hair masks! They are an easy and cost-effective way to lock moisture into your hair to keep it healthy. Here's a great mask recipe for normal to dry hair: Mix one teaspoon of olive oil, two teaspoons of vinegar and one egg. Apply and leave it on your hair for twenty minutes before shampooing—be sure to shampoo twice after applying the mask. This will give your hair a nice sheen and it will also help it grow!
What you put in your body shows on your head. Whatever you put into your body reflects on the outside. When you take care of your insides by staying hydrated and eating foods full of nutrients such as fish, nuts and eggs, they will help keep your hair looking less damaged and shiny. I also recommend taking a daily biotin supplement. A lack of biotin, a natural supplement, could be a contributing factor to dry, brittle hair. I love using and always recommend Vitafusion. Gorgeous Hair, Skin and Nails is a great-tasting gummy multivitamin containing 12 key nutrients, including Biotin and Vitamins C and E to help nourish beautiful hair, skin, and nails from the inside out.
Sometimes the things we do to achieve gorgeous locks can actually damage them. You'll love these easy and essential healthy hair tips.