Why is it that hardly anyone ever remembers the heroes in horror movies, but the villains get all the press? Also, why is it that so many of us gladly spend our hard earned leisure time and money to be scared out of our minds? The popularity of horror movies, and their villains, is both indisputable and inexplicable.
But is it also geographical? Each year, our friends at Frontierbundles.com get into the ghoulish spirit of Halloween by surveying which state prefers which cinema psycho for the past year. You can judge for yourself what each state's monster preference says about the inhabitants, but here are five frightening facts about their findings:
Frankenstein's Monster, also known simply as Frankenstein, claimed the highest amount of searches with eleven states searching him most.
Last year in the 2018-2019 study, Jack Torrance was America's most-searched-for villain for ten states. But Maine was the only state that preferred The Shining villain in 2020.
Illinois was once again a fan of Chucky, perhaps because Chicago was the filming location for the 1988 version of Child's Play.
While this movie made a killing at the box office, bringing in $473.1 million, only four states favored the It Chapter 2 villain, Pennywise.
Although Psycho took place on the west coast, the east coast had a lot of love for the villain Norman Bates, with Rhode Island and Virginia leading the way.
Check out who are the most popular horror movie villains in your state: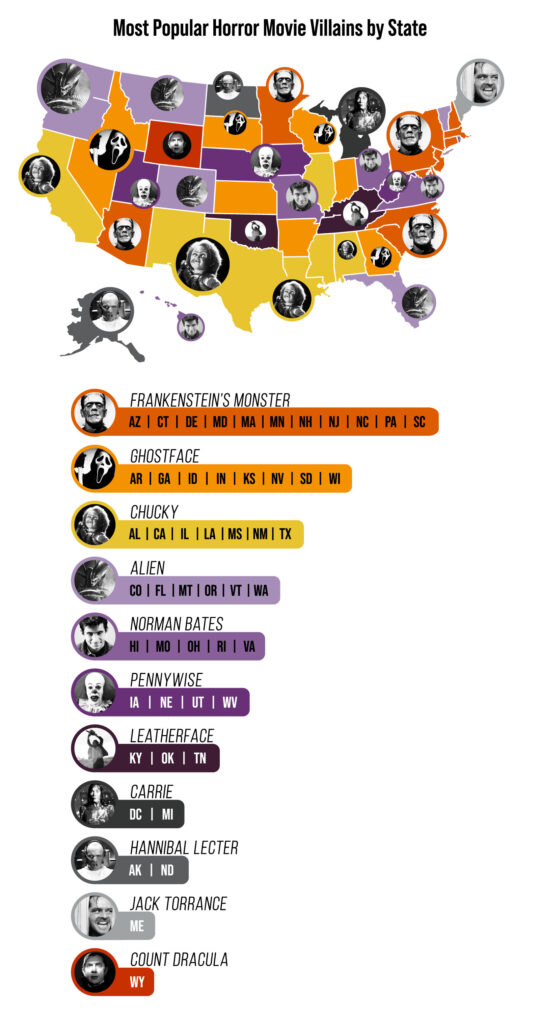 The methodology to their madness is as follows: FrontierBundles.com selected fifteen popular villains from classic horror movies and searched each film in Google Trends for the past twelve months. The team pulled the results on September 4, 2020.
Oh, and one more thing: the folks at FrontierBundles.com wanted us to share that when you and your loved ones want to get into the spirit of things and revisit the Bates Motel, use an internet provider that will give you streaming power so fast it's scary. FrontierBundles.com provides Fios TV so you can relive the horror time and time again.
Who haunts your dreams and/or nightmares? Pennywise? Dracula? Chucky? Jack Torrance from The Shining? Find out who are the most popular horror movie villains in every state.