In our never-ending efforts to find workouts that don't involve leaving the house or spending a fortune on fancy exercise equipment, we recently came across 1WRKOUT from celebrity fitness trainer Nick Hounslow. The idea behind his fitness series is that "each 30-minute workout is the equivalent of spending two hours in the gym."
Hounslow says his "mind + body approach, leaves you feeling stronger, with more energy, focus and time to tackle these very stressful days."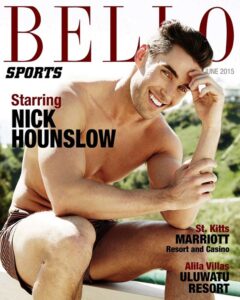 Many celebrities back him up. Hounslow helps stars get in shape for specific movie roles. We're talking people like Nicole Kidman, Keith Urban, Gal Gadot, Vincent D'Onofrio, Claire Holt and Julie Benz.
Originally from London, Hounslow has a successful modeling career, having been featured in articles for Men's Fitness, L'Uomo Vogue (Italy) and Runner's World, plus ads for products including Crest, Taco Bell, Fiat, Cadillac, L'Oreal and more.
When he isn't in front of the camera, he teaches sold-out fitness classes and helps sculpt Hollywood luminaries.
Hounslow says training with 1WRKOUT sessions "allows you to build the body you want without the dangers of high-intensity, and poorly-executed techniques that can lead to elevated stress hormones, injury and disappointing results."
One of the best things about 1WRKOUT? You can do sessions from the safety of your home via Zoom.
Still not convinced? Here are:
5 ways these new Home workouts from Nick Hounslow are unique
They're executed at a super slow pace. An instructor leads you through an experience called "time under tension" training, where you perform exercises you may be familiar with, but at a much slower pace than you're used to. The focus is on more controlled movements that won't tax your joints and tendons.
They're hyper-focused on specific muscle groups. Designed to use bodyweight for most moves, each day of the week focuses on a specific muscle group with an underlying upper body or full-body focus.
They're performed as MMF, "momentary muscular failure." That sounds weird, but it's not. 

You feel a "burn" in your muscles, but your breathing always remains controlled, which helps fortify your lungs. Training this way not only prevents injury, it builds muscle, endurance, and cardi

ovascular health—it leaves you mentally clear.
They're controlled by the hypnotic beat of a metronome. That's easy to understand — the carefully curated metronome tones and sounds help you find a calmness amidst the intensity.
You need no equipment!  Except for a large towel, a mat, and a chair, you won't need anything like weights or bands or rollers. That's refreshing, right?
Okay, know that 1WRKOUT sessions are not free, as some YouTube sessions may be. But as our friend and busy mother of four, Olivia, declares, "If I don't pay for it, I won't do it!" At $20 per session, it's affordable, and the more you buy, the less you'll pay. And here's a special ReallyRather promo code (#1STCLASSFREE), that will indeed get you your first class free.
Find Hounslow's 1WRKOUT classes here.
Stay Zen and Fit at Home With These
5 Free YouTube Yoga Channels.
The fabulously fit trainer to the stars Nick Hounslow has come out with a series of new home workouts that will keep you healthy AND happy.