Just because summer is over doesn't mean vacation season has ended. As a matter of fact, since so many people have the ability to work and attend school remotely, Autumn road trips that can double as working vacays are more popular than ever.
And since pets and their people are now accustomed to being together 24/7, fewer dog owners want to leave their pets behind. Here are some revealing facts about dog friendly vacations, courtesy of Vacasa:
1. Travelers are hitting the open road, but sticking close to home. This summer, the average driving distance was down 19%, or 73 miles, across the U.S.
2. More people are bringing Fido along on vacation. Compared to 2019, the percentage of reservations in pet friendly units increased substantially.
3. Dog parents are selecting larger homes with plenty of room. The most commonly booked vacation rental type is a three-bedroom home, followed by a four-bedroom home. Dog owners, of course, are statistically more likely to book a cabin or a house over a studio or apartment.
4. Travelers are booking longer vacations with their dogs. Pet friendly Vacasa homes saw 11% longer stays in 2020 than the year prior.
5. Dog owners are shelling out more cash to make sure their furry best friend is happy. In 2020, the average spend for a stay in a pet friendly vacation rental is $2,209—representing a 20% increase year over year.
So where are all these four-legged travelers traveling? Vacasa ranked U.S. vacation spots by where they've seen the highest percentage of reservations with pets so far in 2020. When you arrive at any of these vacation destinations, you're sure to be surrounded by fellow dog lovers and smiling furry faces.
Plus, the majority of these locations are off the grid and serve as a gateway to dog approved outdoor activities—like bodies of water perfect for swimming, and mountain ranges with plenty of squirrels to chase!
5 Top Dog Friendly Vacation Destinations
Masked by North Carolina's range of Blue Ridge peaks, Sugar Mountain is a true hidden gem. Hike the High Bluff and Rhododendron Gardens Trail, then hit up the Beech Mountain Bark Park for some off-leash fun in a clean, safe environment set against a backdrop of natural beauty and lush greenery.
View dog friendly vacation rentals in Sugar Mountain.
Bend, Oregon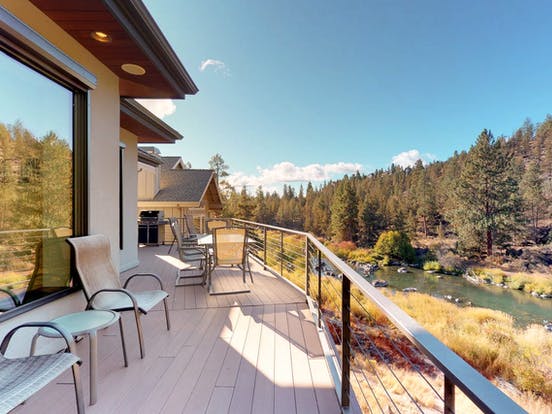 Bend is beloved for its laid-back residents and craft brew scene—but did you know many of its famous breweries are open to dogs of all sizes? In Bend, you can bring your dog just about anywhere, including Tumalo Falls Loop and the sandy shores of Riverbend Dog Park.
View dog friendly vacation rentals in Bend.
Hilton Head, South Carolina