We at ReallyRather don't usually praise the virtues of one product and one product only in a feature, but when you come across chocolate that's smooth and delicious, without a major guilt or fattening factor, we just have to share.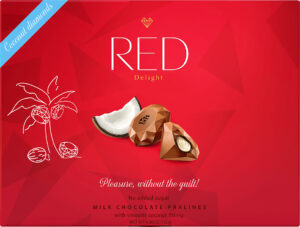 This particular delight is called Red, and it was created by master chocolatiers from France and Switzerland. They've included a little something unique for every taste — in addition to milk and dark chocolate, they also offer chocolate with flavorings like orange and almond, hazel nut and macadamia nut, plus milk chocolate pralines with coconut or hazelnut filling. All in convenient gift boxes, thank you.
By now you're probably asking, what makes this chocolate so guilt-free? Well, here are five good reasons it can be defined as such:
The dark chocolate contains up to 50% fewer calories than other dark chocolate brands, and the milk chocolate contains about 35% fewer calories. Get this: one 26-gram dark chocolate Grab and Go Bar contains only 75 calories. Woo Hoo!
It contains 30-40% less fat than other chocolate brands
There's no added sugar — Red uses all-natural, zero calorie sweeteners including melon sugar and all natural stevia from the stevia plant.
Red dark chocolate is compatible with many diets, including Weight Watchers and Keto, as it contains only 4 net carbs,.
The cocoa comes from the Ivory Coast of Africa, where farmers select, roast and grind the cocoa beans to perfection.
Surprisingly enough, Red doesn't cost as much as other luxury chocolate brands. You can often find it at your local supermarket, but it's also available on Amazon — a 12-pack of Grab and Go bars is only $9.99 — less than a buck a piece. Such a deal!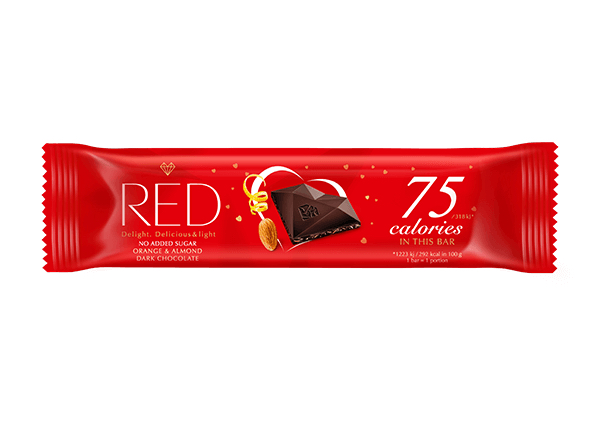 Need a great excuse to eat lots of chocolate? Find it here.
Guilt free chocolate with fewer calories, no added sugar, less fat, extraordinary taste and more? Yes please!