When most people watch movies, they notice the basics like actors, plot, cinematography and music. What we don't often think about are the thousands, if not hundreds of thousands, of decisions made by the director. Like a stone tossed into a pond, each tiny decision made could have a ripple effect on the entire film.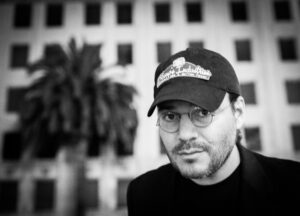 Director Adam Rifkin puts it this way, "The director's job is to make a series of creative choices throughout the filmmaking process, and the finished movie is the summation of all of those choices."
In an effort to take Really Rather readers inside the director's process, Rifkin takes us inside his most recent film, The Last Movie Star, with Burt Reynolds in his final performance, and Modern Family's Ariel Winter cast in a virtually unrecognizable role.  He explains the five most important choices he made and why he made them. If he would have gone any other way, it would have been a completely different film. In his own words, here are:
5 key choices I made to bring The Last Movie Star to life
1. Casting the lead: Why I chose to cast Burt Reynolds is simple. I wrote it for him. Burt was my childhood hero. At ten I saw Smokey and the Bandit and was awed for life. I wanted to hang out with him, and thirty years later, I would do just that. I wrote Burt a role that would force him to dig deep and expose his most vulnerable self. A role I hoped he couldn't say no to. Much to my delight, he accepted.
2. Location: In the original draft, the story took place on the east coast. The producers and I set out to find a state with a competitive tax incentive that would be a good double for New York. Most of the funding came from Knoxville and it was suggested we should at least give Tennessee a look. It quickly became obvious that doubling Tennessee for New York would be impossible, but I loved the look so much I decided to embrace Tennessee for Tennessee. It made more sense from a story perspective as well; Burt was a born and bred Southern boy. Sometimes fate makes the best choices for you.
3. Shooting Style: I've made many films that were aggressively stylistic. The Dark Backward, Night at the Golden Eagle, and Detroit Rock City all embraced dramatic lighting, dynamic camera movement and stylized editing. But I wanted The Last Movie Star to be entirely performance-focused. I felt a lot of visual bells and whistles would detract from the delicate performance I knew Burt could deliver, so I used a minimal shooting style.
4. Casting the female lead: For the role of Lil, I needed an actress who not only had the chops to be able to pull off a dramatic character arc, but someone with honed comedic skills as well. I was familiar with Ariel Winter's nerdy character on Modern Family — casting against type has always appealed to me. I could tell within a minute of meeting her that she was the perfect choice to play Lil.
5. Finding the right assets: What could be better than actually using clips from Burt's old films? Although The Last Movie Star is about faded fame, it's also about growing old. And what better way to show how dramatic the hands of time can be than to visually compare Burt Reynolds, the young, wetsuit clad Adonis from Deliverance, with the vulnerable, 82-year-old Burt Reynolds of today — in the same shot! When writing the script I had an image in my mind of the young Burt and the old Burt, both in the same canoe, reflecting about life. I also saw them riding in that iconic Trans Am together. These images conveyed to me what the core of the film is about: Life and how fast it slips by.
6. Getting the best music (Did you really think a talented director could limit his choices to five?) My final choice was to ask my friend, eleven-time Oscar nominated songwriter, Diane Warren, to write the ending song. When Burt's old pal, the legendary Willie Nelson, agreed to perform it…let's just say, what an awesome choice that turned out to be!
The Last Movie Star is now available for all to view at Showtime On Demand.
Director Adam Rifkin's choices included casting 'Modern Family's' Ariel Winter in Burt Reynolds' final film, 'The Last Movie Star.' Find out what else he would Really Rather.