We at Really Rather openly admit we proudly adorn our fur babies, and are always on the lookout for the best pet costumes. Most of us get a big kick out of dressing up our cats and dogs, as much as they'll endure. We've found that some pets like the attention it brings them (dogs), while others seem to be begging "Would you please just get this stupid thing off me?" (cats).
And then there are those of us who have no pets of our own, and like to see the indignity and/or amusement of others people's pets. We get it. With that in mind, we wanted to share:
5 of the best pet costumes we've seen
Zoo Snoods

For the simplest costume ever, try a clever Zoo Snood to dress your pet as an alternate animal of choice. A "Zoo Snood" is an animal-themed knit hood for dogs (and cats, if you can get them to wear it). Handmade of stretchy yarn, they come in three sizes and keep your pups ears warm as well. Frankie's wearing the bull and the grizzly bear, but their are numerous others, including  reindeer, shark, Baby Yoda and more.
Vampire Cat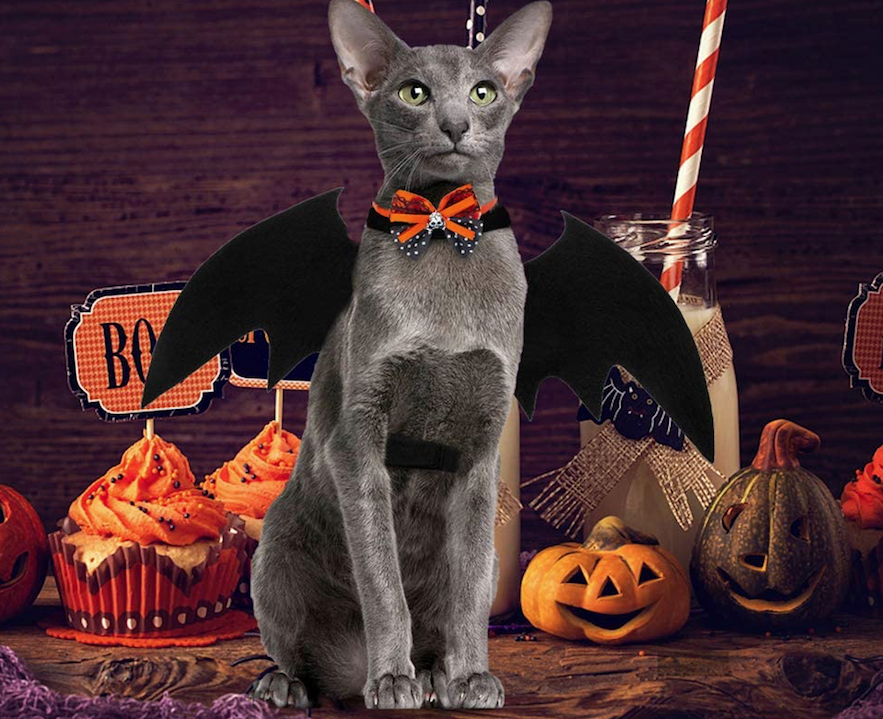 Anyone who's ever tried to dress a feline knows that the cat in the hat only exists in fiction. Your typical chat eschews chapeaus. But if your gato's gotta getta Halloween costume on, how about a colorful collar, and maybe some bat wings if the mood is right? This package comes with two Halloween collars and two pairs of bat wings.
Lion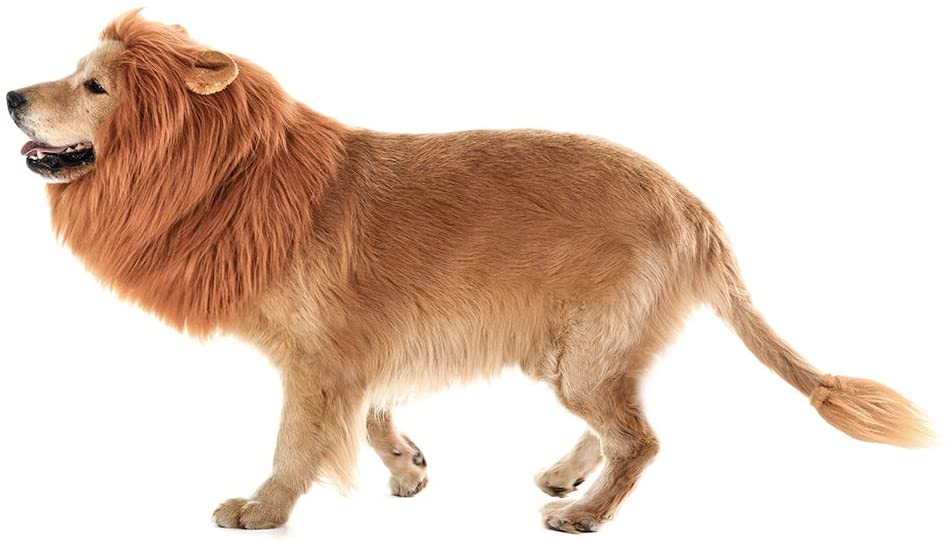 Your dog will be the mane attraction in this easy to slip on synthetic lion costume that fastens in place with just one adjustable strap. Washable, brushable, it even comes with an additional tail accessory to make your dog look simply and stylishly Simba.
Teddy Bear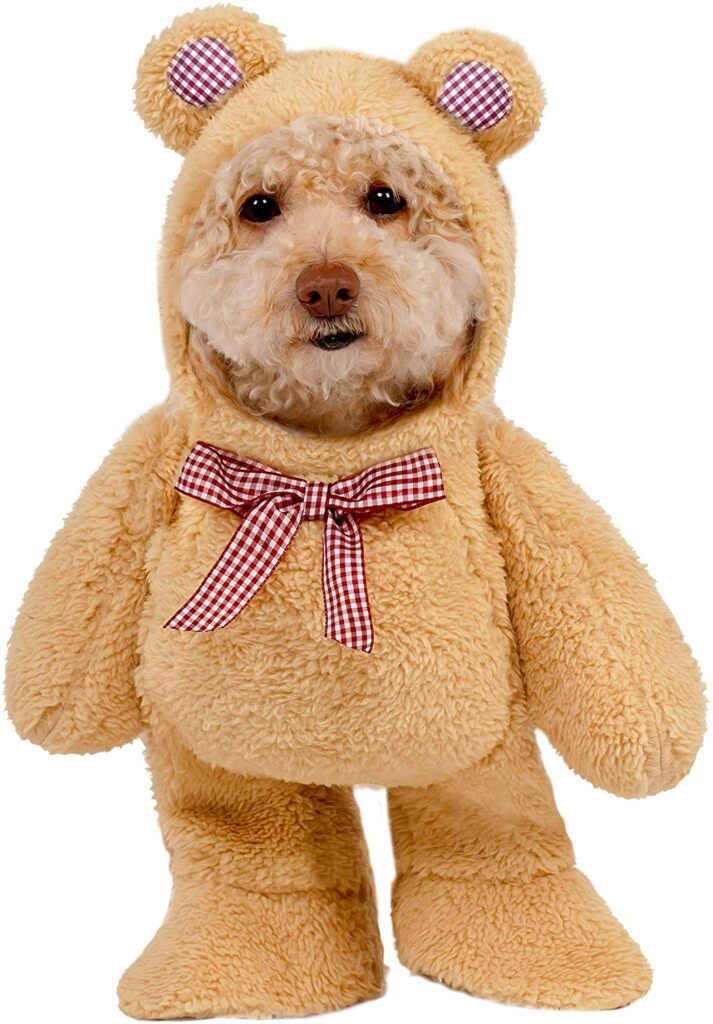 Unbearably cute for smaller dogs, this sweet teddy bear costume comes with a step-in hoodie with padded "false" arms, a gingham bow at the neck, and leg covers that allow the dog's feet to extend below the costume, so it's not too confining. Best for small fluffy breeds with owners who like to dress as Goldilocks.
$18.00 – $30, depending on size, on Amazon
Sushi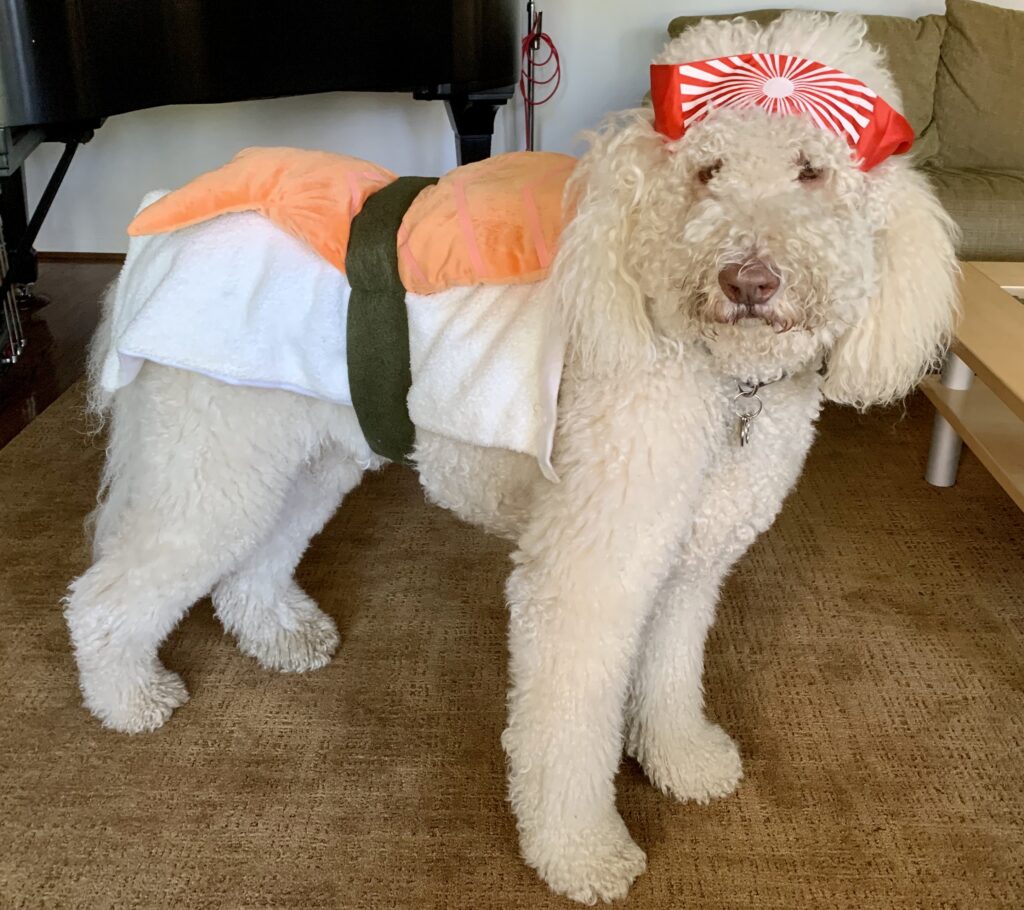 There's absolutely nothing fishy about dressing your pet up as Nigiri. The X Small is tiny enough to fit a cat, the X Large is big enough for a giant Labradoodle. It comes with a felt base that mimics rice, a stuffed shrimp strapped on with seaweed…er… a soft synthetic band with a velcro-closure, and a red rising sun headband like the sushi chefs wear. It's a showstopper.
Lions and sushi and bears… oh my! Here are the 5 best pet costumes we've seen prowling about the 'hood, and details on where to get them.